Save BIG on Your Minnesota Vacation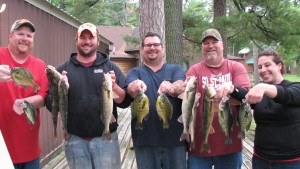 That old saying "You Snooze – You Lose!" is usually true. However, today it isn't! That is because at Wildwood Resort those of you who haven't yet planned your June Minnesota vacation are winners!! We have some unusual openings at the end of June and our loss is your gain! We are offering our remaining June openings at off season rates. That is a potential savings of up to $1300! This offer is based on availability and open to new reservations only. Procrastinators rejoice! Call 1-888-328-5858 for details or send us an email.
Since I declared June "Minnesota Family Vacation Month" it's only fitting that I talk about family vacations at Wildwood! However, I figure you are sick of hearing me talk. (My husband certainly is!!) So this time I asked one of our long-time guests to tell you a little something about her family's long history of spending their Minnesota vacation at Wildwood Resort.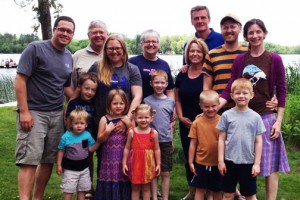 Kim asked me to be a guest blogger, and I honestly didn't even know where to start.  I think I could blog a million paragraphs about Wildwood  and how much I love it. I won't, though. I promise! As I sit here on a Friday afternoon after a challenging week personally, I have to admit that being asked to blog about my favorite place on earth (Kim didn't even ask me to say that part – it's totally true!) was a breath of fresh air.  I speak on behalf of my family – all 15 of us – that we start looking forward to the third week of July at Wildwood almost as soon as we leave each year.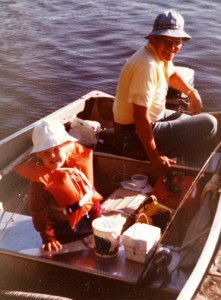 My family has been coming to the resort for over 70 years.  I personally have been coming 34 years (my entire life) and have only missed a few summers. One missed summer was due to the birth of my son. At the time I was a little frustrated at our clear lack of planning but now he LOVES spending his birthday "at the lake" every summer. We bring along two families with seven kiddos ranging in age from 3 to 9 so besides birthday partying our family currently loves all the activities the resort has to offer young children. For us those activities include but are not limited to: spending every waking moment at the beach area (our kids would sleep there if we let them), using the various age-appropriate boats (kayaks, paddleboats, standup paddle boards, etc.), totally taking advantage of the Supervised Kids' Activities on the days they are offered, and spending the rest of our waking hours at the playground.  If for some reason it rains (which it does from time-to-time) we always bring along some trusty movies for the DVD player or raid the games at the Lodge. We usually hit the movie theater in town at least once during the week, too.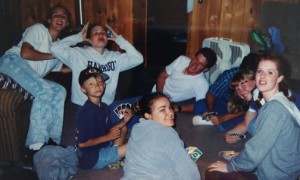 For us, so much of Wildwood is about the memories. It's oh-so-corny, but oh-so-true!  I'm not lying when I say that at least a quarter if not more of my very best childhood memories are of moments spent at Wildwood Resort – and that was before air conditioning and TVs! And now watching my kids make the same kind of memories is amazing in ways that I can't even put into words. Add to that the memories that I'm making as an adult and I just can't imagine ever taking a week at Wildwood off of our calendar. In fact, we love Wildwood so much we've added it as our destination (two years running) for ringing in the New Year every December 31st! But that's a post for another blog if Kim ever invites me back…
We invite you to start a family tradition that includes a week of memory-making at Wildwood Resort! Please contact us for more information about year round vacation opportunities!
Until next time,
Kim & Jay