Make "Forever" Memories on Your Family Vacation
As I've reached my mid-40s I realize more everyday that I'm living the middle age cliché. My youngest is mortified by my car dancing while listening to 80s music with the windows down. I am constantly surprised by the person who looks back at me from the mirror. (Who IS that forty-ish woman and why did she tan with baby oil as a teen?!) And my memory is truly terrible – I'd give you an example of just how terrible if I could remember one. But with those tongue-in-cheek horrors comes lots of lovely blessings as well. I get unholy joy out of embarrassing our 10 year old by rolling down all the windows and cranking my "oldies." I'm more comfortable in my saggier and wrinklier skin than I was 20 years ago and 20 pounds lighter.  And what I've lost in terms of memory I've gained in appreciation of the sweet moments in the present.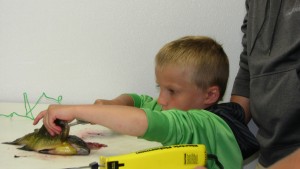 Our life at Wildwood feeds that appreciation. Year round I get to spend nearly every day with my husband. In the summer I get to spend nearly every day with our kids and our parents as well. And I also spend every day of the summer watching people make life-long memories on their family vacation. Last week I watched a young boy learning to clean a fish with his dad standing just over his shoulder. I had to take a picture of his laser-like concentration. It was one of the sweet moments.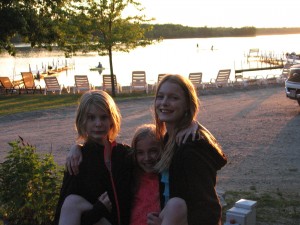 Last week I also sat on a pontoon with my dear cousin and our kids on the lookout for the Northern Lights. We watched the night sky as we made up a story with each of us adding a few lines at a time. I can't remember the whole story but it revolved around  a dog who ate cake and included lots of bathroom humor. Although I was the kill-joy who added "The End" after about 3 rounds (some things – like my tolerance –  don't improve with age!) it was still one of the sweet moments.
So what's my point? It's the same one I make every year in a July blog: take time with your family or friends and make some memories that last. Find a place to go where you can appreciate the sweet moments in the present. We would love to see you here at Wildwood but, honestly, the time and the place aren't important. It's really the "doing" that counts so get out there this summer and soak up the present with the people who matter.
See ya on the lake!
Kim & Jay
P.S. I have some more sweet moments to share: