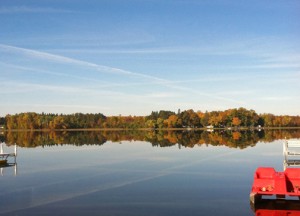 When we started this blog I was concerned that I would lose track of time and forget to post.  It only took me 2 months to do it!  I'm afraid that September knocked me flat.    The change from our summer rhythm to our fall groove is never very graceful.  Off season means that our guests come and go every day so we're cleaning cabins and mowing almost every day while the cabin is empty.   Add to that a new school routine that includes a bedtime (what is that?!), homework and back-to-work for me (at my part-time job) and I can safely say that I'm glad September is behind us.
The truly incredible things about September were the weather and the fall colors!  We are just now past peak colors and I think this is the latest we've seen in our 13 seasons at Wildwood.  The beauty of the fall colors set against the green pines is simply breathtaking.  We've also had such beautiful weather to go with it that now we are spoiled.  We should have been getting more outside work done these last few weeks.  Pulling docks out while it's sleeting isn't very fun!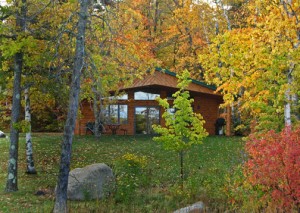 Thursday night marked the first night that we have spent alone at the resort since early May.  Our crazy life is one of such extremes!  We left the house that night for supper and didn't have to let anyone know or put a sign on the door.  It felt strange but also liberating.  🙂  I have been working hard to get all of the resort bedding washed before Jay shuts down the resort laundry room this weekend.  Two extra washers and dryers makes the chore go so much faster!  I think he plans to drain the water lines in the four seasonal cabins this weekend, too.  That is always such a chore!  He has to drain the water heaters and empty the toilets then he hooks up his big air compressor and blows out the water lines to each cabin.  It takes him several days to get it done to his satisfaction but that extra work has always paid off since he hasn't had a broken water line in all these years!  (better find some wood to knock on…)  The pine needles have fallen as well so while he lets his compressor run he usually is on the mower mulching or raking up the leaves and needles.  I'll put the seasonal cabins to bed by bagging up the clean laundry, cleaning the kitchens and stowing all of the outside stuff.  It always feels so strange to close them up for the winter but I'm glad when the chore is done.  I think the plan is to pull out the docks on MEA weekend so I'll post some video of that on Facebook after we do it.  It's quite a process.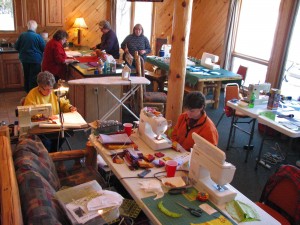 Did you receive the email we sent out this week?  In the summer we use it to advertise discounted and/or split weeks as well as special offers.  This month we are offering our Winter Rate of $35/night/person to anyone who mentions our blog (or the email) while booking.  October is a great time to plan a girlfriend getaway, scrapbooking weekend or quilting retreat!  We can help arrange appointments in town for massage or spa treatments, massages in your cabin, or discounted tickets to the Reif Center. (http://reifcenter.org/)  Minimum occupancy and/or 2 night minimum are required in conjunction with our Winter Rates.  You can sign up to receive our emails on our website at https://www.wildwoodresort.net/emailsignup.htm
Enjoy these last days of Autumn!
Kim & Jay