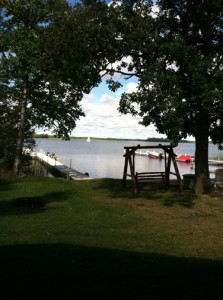 I will be forever amazed I think by the change in the energy at our resort after Labor Day.  Although there are still kids here the place feels so quiet!  Maybe it's just that the pace of our resort life changes so Jay and I notice it more than anyone else would but…wow!  It's is SO peaceful this time of year.  Our guests this week are enjoying some incredible September weather.  Warm and sunny with perfect blue sky and gorgeous sunsets.  Some leaves are already starting to turn – it seems like fall color season is just around the corner.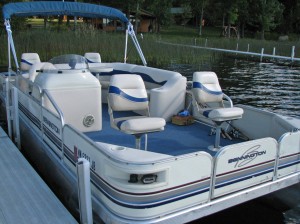 Our big excitement recently (beside school starting) was the purchase of a new pontoon.  We bought a gently-used 2001 Bennington pontoon with a 40 hp 4-stroke Evinrude motor.  The set-up is exactly the same as our 2004 pontoon which makes it a perfect fishing pontoon as well as cruising pontoon.  The new pontoon has already been reserved for a few weeks in 2012 but if you have an interest please send us an email ([email protected]) or call 1-888-328-5858 to check availability for next summer.  We will be getting it added to our Rates page on the website soon!
There are some neat things to do in area during the month of September.  First of all, the Children's Discovery Museum is still open Monday – Sunday from 10:00 a.m. to 5:00 p.m.  Wildwood has a resort membership to the CDM and our guests can visit for free.  Coming up this weekend:  the MN Street Rod Association Fall Campout hosted by the Northern Cruisers Car Club; the 5th Annual Bigfork Valley Challenge including a 1/2 marathon, 4.5 mile run and 3 mile walk; the Bigfork Valley Community Foundation Hoedown Fundraiser, 5:30p @ Marcell Family Center including dinner and dancing to music by the Miltich-LaPlant Folk Ensemble, silent and live auctions; and Enduro Stock Car Races @ Grand Rapids Speedway, Itasca County Fairgrounds.  For more information on these and upcoming events in our area please check out this Community Calendar.
Here's another great potluck recipe that a one of our guests just sent me.  Enjoy!
Cashew Chicken Pasta Salad
• 3 cups bow tie (farfalle) pasta
• 1 (16 ounce) bottle bottled coleslaw dressing (I use Rudolph's)
• 1/2 cup mayonnaise
• 1/2 cup Miracle Whip
• 4 cups cubed cooked chicken (I usually use a rotisserie chicken)
• 1 1/2 cups seedless green grapes, halved (I slice)
• 1 1/2 cups seedless red grapes, halved (I slice)
• 2 cups thinly sliced celery
• 1/2 cup thinly sliced green onions
• 2 cups cashew halves
• 1 cups dried cranberries
Directions:  1. Bring a large pot of lightly salted water to a boil. Add pasta and cook for 8 to 10 minutes until al dente; drain, and set aside.
2.  In a medium bowl, whisk together coleslaw dressing, mayonnaise, and Miracle Whip. In a large bowl, combine pasta, chicken, green grapes, red grapes, celery, and green onions. Stir in dressing, and mix well. Place the salad in the refrigerator to marinate for 2 hours, or overnight. Mix in cashews and dried cranberries just before serving. Serve cold.
We hope your plans in the coming weeks include the very best of fall:  fall fishing, fall color tours and a relaxing fall get-away with us at Wildwood Resort!
Kim & Jay