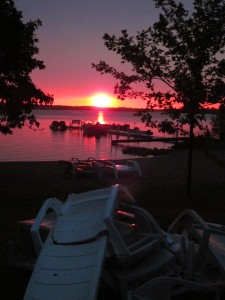 This summer is our 15th year as owners of Wildwood Resort.  It's hard to believe that much time has passed since our first nerve-racking, name-memorizing summer of 1999!  We knew that we would love our life here but had no idea that our amazing guests would be the greatest blessing of resort ownership.  A year ago this week was the "Great Storm of 2012." (You know it was a doozy if it gets it's own name!) We are fortunate to be hosting all the same families that rode out that week with us last year. In the days that followed the storm we received a huge outpouring of support from our guests as well as our friends and family. The experience only proved that we are the luckiest two people on the planet to live out our days at Wildwood!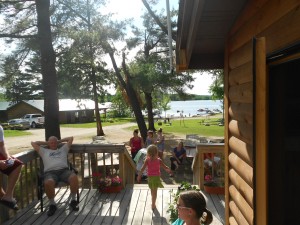 As I was pondering the amazing people we've come to know at the resort it occurred to me that we have learned many important life lessons from the veteran guests at Wildwood. Some lessons are simple and some are thought-provoking but probably the easiest lesson is about the vacation itself. These people are so good at vacationing in Minnesota that I think they qualify as professionals! They could do seminars on How to Enjoy a Minnesota Vacation! So in honor of the countless practitioners of quality Minnesota vacations I thought I'd share their secrets with you. Most who read this blog are already pros at the Wildwood vacation experience but you never know when you might pick up a thing or two from other savvy recreationists.
Immediately upon arrival allow the children to exit the vehicle and run like crazy people to the playground.  After a few (or many!) travel hours anticipating "going to the cabin" it's best to let them run free. Don't even try to make them help you unload the car.  The moments of peace you experience while unpacking in your cabin are often the first of the day.  So while the kids rush to experience every single thing there is to do at the resort in the first 30 minutes just take a breath because you made it. You're on vacation!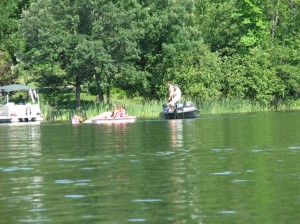 If you bring your own boat you'll want to check a couple of things prior to backing down our boat launch.  Firstly, it's best to use your boat with the plug in the in position. Lack of "plugness" has resulted in many unpleasantly frantic moments for guests as they hurry to get the boat back on the trailer before it fills with water. Also remember to remove  the strap on the back of the trailer that holds the boat during transport. Removal of the strap facilitates removal of the boat from the boat trailer. Secondly, don't be afraid to let Jay back your boat down the launch. For many boat owners backing up with the boat trailer behind the vehicle is tricky.  It's just not something most do often! To avoid the unfortunate and ill-advised "jack-knife" trailer position – just ask Jay to help. If you aren't a regular boat-backer-upper then just swallow your pride and take his advice and you'll be out on the water with the wind in your hair (or hat) before you know it!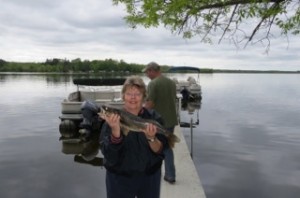 Mornings on vacation are magic. Vacation mornings are not like work-day mornings in one very important way: you don't have to go to work!  Instead you should sleep until you wake (no pesky alarms), drink vast amounts of coffee on the deck in your pajamas and fry bacon with the windows open so the resort owners can enjoy your breakfast too. Consider applying sunscreen prior to putting on the most comfortable clothes you own. This is a must for the small ones who will spend the entire day fishing from the dock, swimming, catching minnows, riding bikes and digging holes on the beach. The only variation we see in this morning pattern relates to fishing. Early morning fishing is the only acceptable reason to set an alarm. In fact, early morning fishing is a GREAT reason to set an alarm. That way you can drink vast amounts of coffee on the boat (in your pajamas if you choose) while watching the sun peek up over the trees. The bacon thing still fits in just fine after a morning of fishing.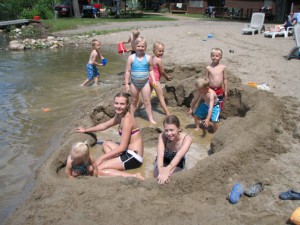 During the warmest part of the day there are a few options open depending on your state of mind and idea of fun. My personal favorite is the option where you spend the entire day on the lake tubing or skiing behind your boat or just bobbing on a pontoon while you eat junk food. That version usually involves anchoring in a good swimming spot and jumping in for a refreshing swim.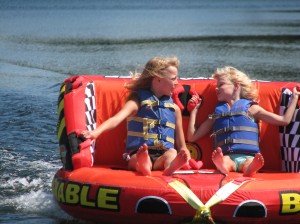 The non-boat version of that is just a fun, though.  All you need to do is perfectly position your beach chair (in or out of the sun), slather on the sunscreen and then prepare to do absolutely nothing until something better comes along. Most people read or play with the kids until it's time to take a little swim in the lake. Inflatable rafts are highly recommended for the perfect combination of hot-sun-cool-water relaxation. Notice that sun, fun, water and junk food are the universal elements here.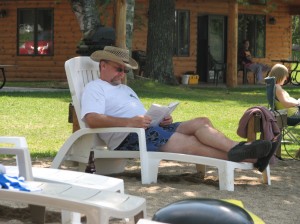 Behaviors of the most experienced MN vacation -ers would indicate that a mid-day nap is often advised. There is something about a good night's sleep that requires a nap during the day. It's an inexplicable element of vacations. Rest and relaxation are exhausting – let's face it. So to keep up your stamina while on your family vacation we suggest a little shut-eye during the day. You can grab some Z's on the boat, on the beach or in the shade of a well-placed tree.  It can be done in a hammock if you have one or on the couch in your comfortable cabin. Naps for children are often a must but during vacation the adults can lay down with their kids or grandkids and snooze guilt-free. No lawns to mow or emails to return so go ahead…just close your eyes and zzzzzzzzzzzzzzzzzzzzzzzzzzzzzzz.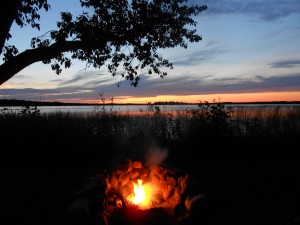 Meals should be kept simple. Paper plate meals are perfectly acceptable and even encouraged. Make use of the grill provided and share the meal prep among vacationers so no one gets crabby. Clean-up should never be done by the cook and all meals should be followed by something sweet. As dusk approaches consider lighting a campfire and eating copious amounts of chocolate on graham crackers accompanied by tiny amounts of marshmallow. (That's how I do it!) Allow the kids to stuff as many marshmallows in their mouths as they want. Come on, it's vacation! If you can find the coconut covered marshmallows they make an unbelievable s'more. As do fudge-striped cookies instead of graham crackers. It's fine to skip bath time for the kids or a shower before bed. Marshmallow will wash out of the hair tomorrow while swimming in the lake and it's wonderful to go to bed smelling of campfire….at least I think so.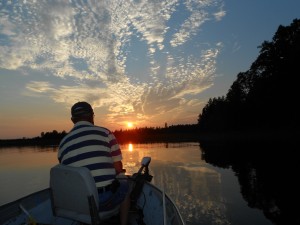 If you are of a mind to take a break in between supper and the campfire then a seasoned Wildwood guests would advise a little fishing as the sun sets.  Jay and I often tell people that our lake is a dawn-and-dusk lake during the summer. So pack the bug spray and the tackle box and head out to look for some panfish or walleye. Keep your eye on the sun so you don't miss the absolutely breathtaking sunsets we experience here on Bass Lake. There is nothing like casting into still, sunset-colored water at the end of a beautiful day to set your world right. It restores the soul – I'm serious!
Finally, we all know that no matter how wonderful vacation can be sometimes you might need a break from all the relatives.  Or maybe a break from the summer sun. Or maybe you just need a little retail therapy. No matter the reason – our long-time guests recognize the value of taking some time away from the resort. Many bring golf clubs and spend a day at a local golf course. Rainy days are a great time to take in a matinee in town or to visit the Children's Discovery Museum. And if laying around on vacation isn't your idea of a fun time then you can find something to do every day you are here by taking in both natural and man-made area attractions. There are many historical and natural points of interest in and around Itasca County so feel free to spend your days exploring!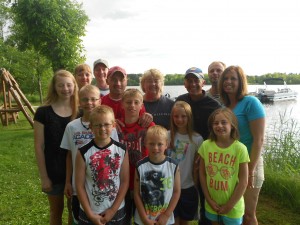 I think the main element of a successful Minnesota vacation is to just take one! Life is busy and goes by quickly so probably the most important thing we have learned from our amazing guests is to just plan it. Make it a priority to start a tradition with your family or your friends (or both!) that involves unplugging from real life for awhile and recharging your batteries. Connect with the people in your life who make you happy and take time to absorb the beauty of God's creation.
Vacation on, people! Kim & Jay