Ice Fishing, Snowmobiling and Relaxing Winter Get-Aways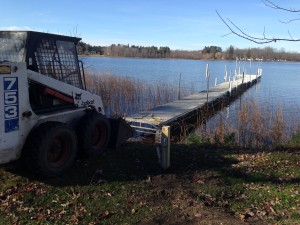 Have you ever been driving down a highway and you see something in the distance that you can't quite make out? You know it's something but until you get a little closer you aren't too sure if it's a deer or a mailbox. That's how I feel about the coming winter in Minnesota. The only difference is that I know EXACTLY what is ahead even if we can't see it clearly yet. We've already had several hard freezes and one evening with brief snow flurries…and that was in September! So this week we have spent our time pulling docks out of the lake and putting away all of the boats and summer toys. We got lucky weather-wise and got to pull docks in t-shirts which is a VAST improvement over last year when we pulled them in November in full winter gear. It is truly crazy to think that one year ago this week we were just about to begin pouring the slabs for Aspen Lodge and the duplex. I can promise you that we are not missing the craziness of construction. We anticipate days this fall when we have nothing that has to be done.  What a huge relief after about 18 months of pure crazy. We feel enormously grateful for having the opportunity to build the cabins but even more grateful to be done with the job!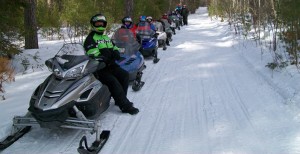 Although I can't say that I love the colder, damp days I do love that they are ushering in winter in Minnesota – my second favorite season! We are looking forward to hitting the snowmobile trails in Itasca County with friends. And I vow that this winter I'm going to make use of the x-ski trails that are so plentiful in our area. We were given an ice auger by a generous friend so we plan to hit Bass Lake to do a lot more ice fishing than we have ever done before. And we are excited to be able to welcome guests into all nine of our cabins now that they are all winter-ready. We hope that the extra beds available in the winter make it easier to accommodate groups looking to spend time ice fishing, snowmobiling, x-skiing, crafting and relaxing. I guess maybe I'm a little more ready for winter than I thought. 🙂
One of the great things about the Grand Rapids, MN area is the incredible arts community that provides a wide variety of opportunities to experience life through art. The Myles Reif Center for Performing Arts is one of the many gems of Itasca County. Thanks to The Reif Center, residents and visitors alike have access to an amazing number of stellar performances offered throughout the year and guests of Wildwood Resort enjoy the lowest offered ticket price when a performance is booked in conjunction with a stay at Wildwood! The MacRostie Art Center, located in downtown Grand Rapids, is another member of our arts community that provides beautiful art exhibitions, hands-on learning opportunities, and one-of-a-kind shopping to visitors. On the first Friday of every month from 4-8pm in downtown Grand Rapids the First Friday Art Walk offers live music, artist talks and demonstrations, refreshments and more – all free and open to the public. The next event happens November 7th!
We hope you are making progress on your fall chores and looking forward to the coming winter!
Kim & Jay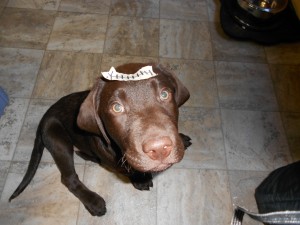 P.S. We would like you to meet the newest member of our family. Bear is our 10 week old chocolate lab and he has immediately brought light and love into the house. He has also brought chaos and more than his share of naughtiness but, hopefully, by next summer he'll be somewhat, sort of or occasionally a good boy. We look forward to introducing him to our guests!