Minnesota Snowmobiling Vacations at Wildwood Resort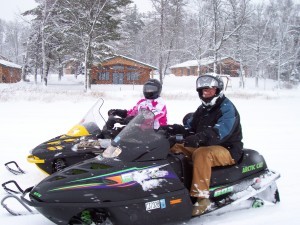 Snowmobile Friendly Resort!
Wildwood Resort brings you some of the best snowmobiling in Minnesota, with a varying terrain that makes for exciting snowmobile trail riding and spectacular scenery. Wildwood is located in the heart of prime Minnesota snowmobile trail country 4 hours north of the Twin Cities. Our central location in Itasca County near Grand Rapids makes the resort an ideal hub to snowmobile by day and stay in our warm, cozy cabins at night. Local snowmobile rentals are available from R & R Rental (Be sure you select their "Grand Rapids" location)
Plan Your Snowmobiling Weekend

Miles of Beautiful Groomed Snowmobile Trails
There are more than 1,000 miles of groomed snowmobile trails here regarded by some as the finest in the state. Nowhere does snowmobiling in Minnesota get any better! The Bushwacker Trail runs directly along the south side of Bass Lake, so all you have to do is unload your snowmobile and connect via a short ride from your cabin to the trail system across the bay. Itasca County's Trail system ties into the popular Taconite Trail making all of Northern Minnesota snowmobile trail systems yours to explore. The area's 13 snowmobile clubs work hard to keep our trails in top condition, as do our local county and state trail groomers. You won't find a more dedicated and fun-loving group of people. Be sure to stop in at an area clubhouse for a break and meet some new friends.
Get Your Trail Condition Report Here!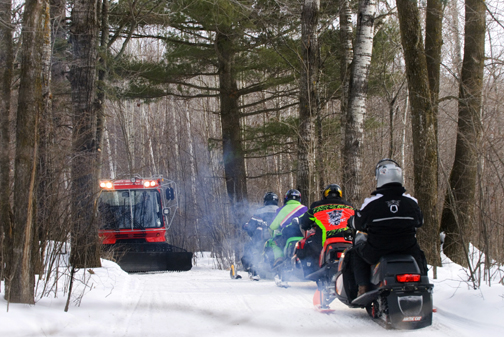 Best Snowmobile Trails & Warm, Cozy Cabins
With an annual average snowfall of nearly 5 feet, it's no wonder people from around the country come to northern Minnesota to experience the best snowmobile conditions around. Our warm and comfortable accommodations combined with the incredible winter scenery of the Northwoods promise to make a winter visit to Wildwood among the best MN snowmobile weekends you've ever experienced!
Contact Us Today!
Load the sleds, grab some friends and come north for snowmobiling at its best at Wildwood Resort.
Itasca County Snowmobile Trail Map courtesy of VisitGrandRapids.
1000+ miles of groomed snowmobile trails
|
Minnesota snowmobiling at its best!
|
Taconite snowmobile trail near Grand Rapids, MN
|
Snowmobiling is a great way to spend family time in the winter!
|
Minnesota snowmobiling in Itasca County
|
Groomed snowmobile trails that connect with the Minnesota snowmobile trail system
|
Warm, luxurious cabins with direct access to snowmobile trails!
|
Snowmobilng through Scenic State Park near Bigfork, MN
|