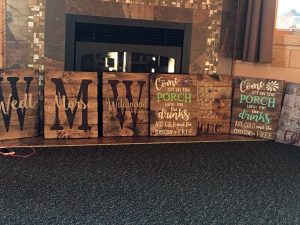 Grab Your Girlfriends and Head North!
Today is April 12th and it snowed last night. :'( Usually we are gearing up for Minnesota Fishing Opener and talking about family vacations to Wildwood. But today Jay got the plow truck out and cleared the drive. Wow. Waking up to snow was a low blow to our Spring Fever!
I'm tempted to sit in my office and pout today but I'm not going to do that. Know why? Because in spite of Mother Nature's temper tantrum I'm looking forward to spending this weekend relaxing with girlfriends. Several local friends have been doing a weekend girlfriend get-away at Wildwood for a few years now. It's amazing how much fun it is to let go of normal life for a weekend.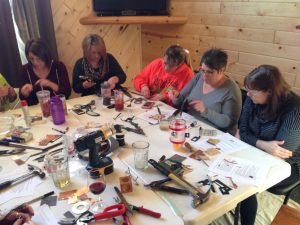 For just a day or so we step out of my roles as "Mom" and "Wife" and I'm just a girl hanging out with friends. We talk A LOT and laugh even more. While we paint nails (always over newspaper!! I'm still a resorter while I'm there!) we catch up on each others' lives and stuff our faces with way too many good snacks. We usually have a couple of massage therapists come out to the resort and every year we do a craft of some kind. This year we are even thinking of participating in a local Shop Hop that is happening in Grand Rapids. Mostly we just take a little time to recharge our batteries and I'm always surprised how rested I am after our weekend together.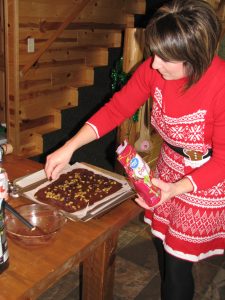 Last December several of us also got together and did a Christmas baking weekend. Since the kitchen isn't where I shine I didn't bake but I did do a lot of dishes and quite a bit of taste-testing. We talked and laughed and shared recipes while helping each other get the holiday baking done. We even had an ugly sweater contest! Best of all at the end of our cookie-baking weekend we all ended up with several dozen holiday-party-ready treats! Jay is really hoping we will do the holiday baking weekend again but I'd also like to try a freezer meal weekend. Imagine walking away from a friend weekend with a month of dinners already prepared!
No matter what size group I'd like to invite you and your girls to head on up to Wildwood! We're still offering our Girlfriend Getaway Package through the end of this month but even if you don't stay with us take some time with friends for resting, reconnecting and recharging!
Have a Great Weekend!
Kim