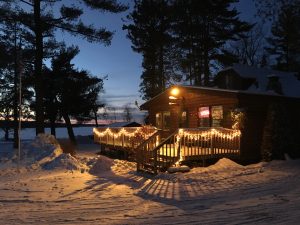 Current Conditions at Wildwood Resort
Happy New Year! Among our wishes for the New Year is our hope that you and your family are healthy and happy, that work is steady, the kids are good and that you find some time for recreation this winter. So far it's been bitterly cold so I think we all deserve a little fun!
Snowmobiling at Wildwood
Before living here I never would have guessed that conditions have to be just right for making good ice in northern Minnesota. Ideally we need lots of cold weather early (without snow) to freeze up the lakes and swamps. We definitely got cold temps early this year but they came with a weird weather pattern that also included warm days. That meant lots of freeze and thaw while the lakes were icing over and it created some dangerous ice conditions! After a bitterly cold 2 weeks we are happy that we've been rewarded with good ice on Bass Lake and frozen swamps in the woods. Now we just need the snow. We have about 5 inches or so around our place and need another 6! Some of the snowmobile clubs up north like the Marcell SnowDrifters and Swampsiders have been out grooming but conditions are not good. We are enjoying some balmy (27 degrees!!) temps today have some snow in our forecast so we're keeping our fingers crossed that Mother Nature gets generous with the white stuff. "Like" our Facebook page to see the latest updates on snowmobile trail conditions.
Ice Fishing at Wildwood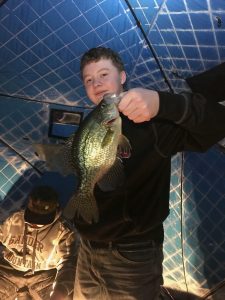 Here's Jay's take on ice fishing on Bass Lake: We have finally gotten safe enough ice for lake travel with the recent arctic temperatures. It's amazing how quickly a lake can make ice with temperatures approaching -30 and that's without wind chill! Ice thickness is close to 18 inches and getting thicker by the day. Fishermen are now navigating the lake with trucks and travel is quite easy with less than 6 inches of snow on top. I got the opportunity to fish for the first time this winter over the Christmas holiday with my father in-law who was here visiting. To help ease the cabin fever we ventured out one afternoon when the temperature had finally inched above zero and set up in 17-18 feet of water. We fished that afternoon from 3:00 until dark and were pleasantly surprised with how many fish we caught considering how cold it had been the previous few days. Several of our guests staying with us here at the resort over New Year's also ventured out to fish in the cold and reported good success with nice sunnies and some big crappie. Guests in this last weekend (Jan. 6th) found the fishing a little slower but they were also fishing in seriously cold temperatures. Talk about die-hards!!
Cross-Country Skiing at Wildwood
Many of our guests are avid x-skiiers and we had some hearty souls hit the trails last week during our frigid period. They found the trails adequate if a little icy. (and cold!) The Northern Lights Nordic Ski Club does an outstanding job of promoting and caring for the x-ski trails in our area and they provide trail updates, maps and info on their website. From the trail reports on their site it sounds like some trails have been groomed but snow is thin. Again – we need snow!!!
Winter in the North Woods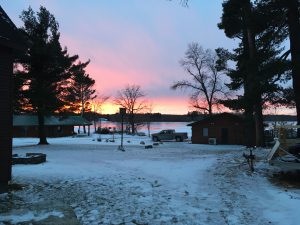 I know it sounds crazy but if you can force yourself outside to experience it there is something really neat about -30 actual temp and a wind chill around -46. Cold like that makes the metal on our back door burn the skin when you touch it, boiling water turns to mist when thrown in the air and plastic bags shatter after being left outside. Our car is a beast in the winter and rarely acts up in the cold but New Year's Eve morning I had to run to pick up one of the girls. After driving it for an hour the engine's temperature gauge arrow hadn't moved off of "Are you Kidding??!?!?" In spite of all that for some reason on a cold, cold night the stars seem brighter and clearer and the stillness of winter more intense. It's an amazing phenomenon but you don't have to experience it from the back of a snowmobile or in an ice house. It's perfectly acceptable to stay indoors and experience it through the window while standing by the fireplace! Many guests come to Wildwood to just relax and spend time with friends or family. We have lots of groups that come up to scrapbook or quilt and we even had our first ever Christmas Cookie Exchange weekend in December. I'll blog about that in the future but for now I will say it was very FUN and the holiday treats that we got from that weekend were pretty great! Lastly, don't forget that The Reif Center brings some big name acts to our small, northern town and our guests get the lowest ticket price offered through our Theater Packages. (Pam Tillis is coming in March!)
Whatever your interests we'd love to help you combat cabin fever this winter with a warm and comfortable stay in one of our cabins. Check our availability and contact us today!
Stay warm out there!
Kim & Jay