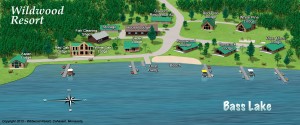 Jay and I purchased Wildwood Resort in 1999. At that time we had eight "classic" cabins and one moldy 70s era single-wide mobile home. After an unexpected visit in 2002 by the State Fire Marshall (he wasn't too impressed by the mobile home) it was pulled off the resort in 2003 and now it lives on another piece of property somewhere in Itasca County. While we had no fondness for the mobile home, its loss made us really start looking at our business and asking ourselves if our current efforts would ever result in the resort we saw in our dreams. We probably owe that Fire Marshall a debt of gratitude for pulling the blinders off because in 2005 we added Red Pine Lodge and White Pine Lodge. Then in 2007 after tearing down four of the original cabins we built Basswood Lodge, Tamarack Lodge and Riverbirch Lodge. That brings us to the present day and very exciting news about our changes planned for 2014!
This coming winter we have planned the demolition of Cabins 2, 3 & 4 and the complete renovation of Cabin 1. The new cabins will be ready for the 2014 season beginning Memorial Weekend and will be winterized for year round use:
Cabin 4 will be replaced by Aspen Lodge which will be a two bedroom cabin located on the same beautiful spot it inhabits today.
Cabins 1 & 2 will become the Red Oak and White Oak Lodges. They will be located where Cabins 2 & 3 are today and built as a duplex with three bedrooms on each side of the unit. Building a duplex gives us the flexibility to rent the cabin as a 6 bedroom unit and makes the best use of the available land. There will be a sound barrier between the units and the outdoor space for each cabin will be private. Each side will be two-stories with three bedrooms, two full bathrooms and covered patios. The unique floor plan of the duplex will allow groups to turn the two individual units into the 6 bedroom "Oak Lodge" by renting both sides of the unit and opening the adjoining doors. It will be perfect for family reunions!
Cabin 3 will become Cedar Lodge and will be located where Cabin 1 is today. We will gut and completely renovate the current cabin and remake it into a 2 bedroom, winterized unit with a full bathroom. The footprint and deck will remain the same but the interior will be totally new.
We will continue to book Cabins 1, 2, 3 & 4 through mid-September of this year so remember that there is still time to plan a fall stay at Wildwood! 🙂
We will be sharing photos of our progress throughout the winter so check back to this blog and our Facebook page often!
Kim & Jay
Here are some more photos of our guests enjoying their family vacations!