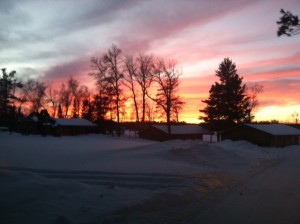 Life at Wildwood has been busy these last few weeks! It has left little time to post to the blog but we have managed to get in some snowmobiling and some cabin building along with all the normal day-to-day activities. We had had some ice fishermen in but mostly the cabins have been full of folks out enjoying the Minnesota snowmobile trails!
We hit the snowmobile trails on Thursday, January 16th and found area trails to be in great shape. The DNR is reporting about 15″ of snow in our area and I think that is accurate. Northern Itasca County might have a few more inches than that but overall I think that's accurate. We left from Marcell and rode the Marcell Trail, to the Cameron Lake Trail then onto the Herb Brandstrom and Taconite Trails. All trails were in good condition and we even met a groomer on just outside of Marcell so the first 30 miles we rode were absolutely perfect.  We lunched at The Scenic Pines and then headed back to Marcell. It was a great day out on the trails and it felt so good to finally get some rec time on the snowmobiles!
Area snowmobile trail reports and area x-ski reports are available on the Visit Grand Rapids website. Snow depth state trail reports can be found on the DNR website.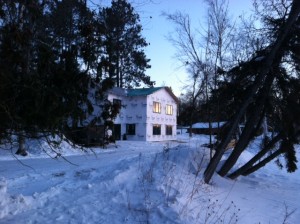 The new cabins are coming along beautifully and we couldn't be happier! Aspen Lodge had doors hung and trim completed so we are ready to spray the walls. It's past time to get the kitchen cabinets ordered! Jay has been hard at work in Cedar Lodge. He's putting up the pine paneling and should have that completed this week. Oak Lodge (the duplex) is finally moving ahead after so many weeks of waiting for the weather to warm up.  The roof is water-tight even though the metal will have to be installed in the spring. With a dry house the electricians worked hard at running wire for outlets, fixtures and switches in order to get the electrical inspection complete. We are ready for the insulators to come back and finish the spray foam upstairs and down. Our hard-working contractors got windows installed and even started putting up the pine paneling in Red Oak Lodge. It's amazing how much these guys are accomplishing every day.  We are so thankful for the great group of professionals working on our project! You can find more cabin information and project photos on our website and on our Facebook page.
Have a great week!
Kim & Jay