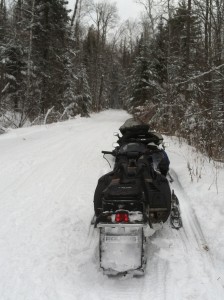 Yesterday was the first day in many that we have crawled our way to temps above zero. In fact, the 7 degrees farenheit outside felt like a heat wave! In spite of the unseasonably cold weather hearty souls have been hard at work getting Itasca County x-ski trails and snowmobile trails ready for action. This is the first time in our 15 years at Wildwood that we can remember having groomed trails this early in December. From trail reports we've heard most of the x-ski trails have been groomed at least once. And the Bushwacker Snowmobile Trail that runs just south of the resort has also been groomed. We had about 12″ of snow fall right before the cold snap so that should provide a good base on area trails. Area cross-country ski trail reports and snowmobile trail reports can be found on the Trail Reports page of the Visit Grand Rapids website.
Ice conditions are area lakes haven't faired as well with the heavy snowfall. While most reported 6″ or so of ice before the snow that wasn't enough ice to hold the all the snow that fell. Most lakes are very slushy right now under the crusty layer of snow. In fact, one of our neighborhood teens found that out the hard way last week when he headed out onto Bass Lake on his sled. Conditions were very slushy resulting in a stalled snowmobile and one (very) angry dad. For the time being our opinion is that Bass Lake is too slushy to navigate on snowmobile or 4-wheeler but hopefully the cold temps will work to firm things up by the first of January.
Between the heavy snow and the frigid temperatures of the last 10 days our project had ground to a painful halt. With only outside work needing to be done and windchill temps around -30 our very frustrated contractor had to wait out the bad weather until he could get back to work this week. The duplex still sits without a roof and I'm sure it's upper level is full of snow. I say "I'm sure" because I refuse to walk down there and look things over. Avoidance has been the name of my game! I didn't realize how much the lack of forward movement had been bothering me until I saw our contractor drive into the resort yesterday. It was a huge relief to anticipate that things will get back on track now. Aspen Lodge had the tin put on the roof yesterday even though the windchill was still -5! Both Aspen and Cedar Lodges are ready for windows to be installed and for the insulating to be completed now that both cabins are watertight. There aren't many crane operators still at work this time of year but we finally found one out of Bemidji who plans to be here early next week to help our crew set trusses so Oak Lodge can be roofed. Things will start moving quickly again once that happens. I'm trying to remember that things happen as they should on God's timeline and not my own. (But I'm waaaayyyy more comfortable with MY timeline. :))
We are happily anticipating the upcoming holiday season and look forward to celebrating Christmas with my side of the family at Wildwood this year. And after that?! We look forward to jumping on our sleds and hitting the trails. Winter is going to be hanging around for awhile – we might as well get out and enjoy it!
Kim & Jay