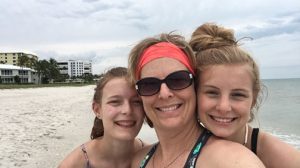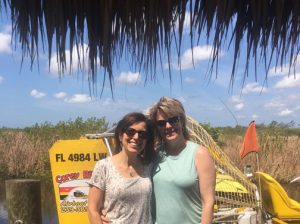 Rest, Reconnect and Reset Your Attitude on Family Vacation
We recently returned from a family vacation in Florida. It was wonderful because we needed the sunshine and we love the beach. It's our happy place! We love the water and the smell and the sand. The girls and I like to swim and look for shells while Jay likes to sit under an umbrella and a blanket of SPF 9000 sunscreen. The four of us were able to spend time together with Jay's dad as well as his wonderful aunt & uncle who hosted all of us. We had the time and space to reconnect with each other and that time strengthened the bonds between us. I had the chance to meet up with a high school friend whom I had missed and introduce her to our daughters. That made my heart so happy because it was another connection made new again! We ate ice cream at Sweet Melissa's Ice Cream Shoppe in Bonita Springs, FL and it was Ah-mazing! I have no idea what they are baking in there but it smells incredible. Maybe they are baking waffle cones? I don't know but I'm pretty sure Heaven smells like that! Someday I'm going back for their key lime pie that is MADE FRESH DAILY. I have to stop talking about that now. #hangryisathing We saw excess that made us uncomfortable as we drove by homes that cost millions and saw an SUV that cost more than a house in Grand Rapids. We also saw courage and renewal as we drove through areas with the permanent scars left behind by Hurricane Irma. We saw manatees, dolphins, pelicans and even held an alligator! We came home with beach sand on EVERYTHING and dozens of pictures and videos showing smiles, sunsets and family time. In all of the videos someone is laughing.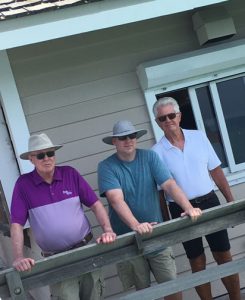 That paragraph makes it sound like a dream family vacation, right? Well – it wasn't. The girls both got a pretty bad sunburn so they learned a #lifelesson that they should #listentoyourmother, we had a few bad meals and a few unpleasant encounters with other humans. And then we walked off the plane in Minneapolis and out into a blizzard. Jay was a very angry man while he plowed and shoveled snow the day after our return! I would not say that we spent 7 day filled with 24-hour bliss. Not even close! But here's what we did come home with:
1) Renewed connections with people we love! Life is busy and so many times relationships bear the brunt of our preoccupation with the minutia of life. It's easy to see why misunderstandings happen in a family or with your friends when there isn't enough time spent together and/or really talking and catching up. Vacations and especially family vacations are prime opportunities to reconnect with the people who make our world right. Ideally, when we're on a vacation there is time for talking and laughing together while playing games, sitting on a beach, fishing or even standing in line waiting to be seated for dinner! Removing the fog of everyday life lets us see each other (and maybe ourselves?) more clearly.
2) Renewed attitudes! Positive attitudes helped a lot when we face-planted back into reality. I'm not going to say that vacation cured all of our problems but taking time to rest and escape from our everyday grind helped reset perspectives and refill energy banks!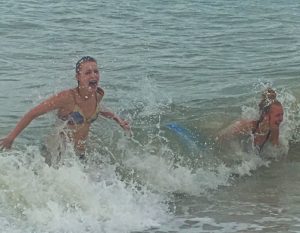 3) Renewed appreciation for all that we have been given! We live a fairly small life, I think. We don't travel the world or even the United States very much. Most of our trips involve seeing family in familiar surroundings that aren't very different from our normal life. But spending time far from home illustrated for us a stark contrast between the "haves" and the "have nots." We were humbled to be reminded that life can be so very hard for many people. An attitude of gratitude makes everything better.
Our daughter is often stricken by "2nd degree embarrassment" whenever she feels embarrassed for someone else. Believe it or not, Jay and I experience something similar (but more enjoyable) with our guests. For 20 years we've gotten "2nd degree happiness" as we watch families and friends rest and reconnect at Wildwood. We get a great deal of pleasure from providing the backdrop for summer family vacations and we work hard to make Wildwood Resort the kind of Minnesota resort that makes people want to return year after year.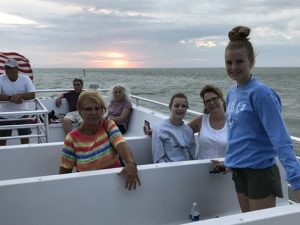 We still have openings for our summer season so we invite you to check our calendar and see if we can provide you with the time and space to reconnect with your favorite people. Feel free to call or email if you have any questions!
Happy Spring!
Kim & Jay