Hot Deals on Minnesota Golf at Wildwood Resort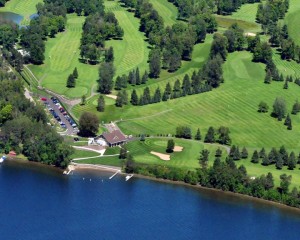 We are pleased to be participating with Eagle Ridge Golf Course and Pokegama Golf Course on their Spring Into Golf promotion to get people to stay and play in the Grand Rapids, MN area. Book at least a three-night stay at Wildwood Resort between May 27th and June 6th and get one day of unlimited golf FREE! Additional days of unlimited golf can be purchased for just $35/person. Rate includes cart rental. Call us at 218-328-5858 or email us for more information.
Mother Nature struck a blow today. And like most April Fool's jokes – it's not funny. Yesterday we had warm temps and rain that rid us of a lot of snow. Today we awoke to almost a foot of the white stuff. Needless to say while Jay is out plowing snow for the one-millionth time this winter I'm hunkered down in the house with the curtains drawn. I refuse to acknowledge the weather. Ignore it and it will go away, right?!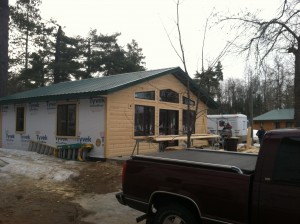 Let's talk about summer instead! After all, it will return eventually and we should be ready. Our new cabins are coming along nicely. We are so happy with our amazing team of contractors who have us in great shape considering all the disastrous weather they've had to battle this winter. Our general contractor has been putting up half log siding but thanks to today's lovely weather decided to work on kitchen countertops instead. Our flooring genius is laying tile in the duplex, the plumber is setting fixtures and hooking up fireplaces and our electricians are installing lights and electric heaters. I will post some updated photos on the Wildwood Resort Facebook page later today. Things are coming together! We really are optimistic about finishing these units way ahead of schedule. That is a drastic change from past projects when we've still been hanging curtains as our first guests pull up to the new cabins!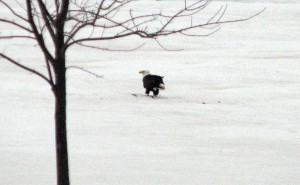 Our eagle pair is very active in the nest lately. This is a fun time of year because it's not unusual to find them sitting on the quiet shoreline with a snack. Yesterday morning this eagle was having breakfast on the lake and we just happened to catch a quick picture. Life on a Minnesota resort is never dull!
Thinking warm summer-y thoughts until next time –
Kim & Jay