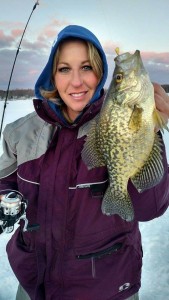 Bass Lake Ice Fishing Report
Ice fishing reports indicate that the bite is hot on Bass Lake! Action is best in the late afternoon hours with most fish being found in about 17′ of water. Bite seems to be best from around 3:30 until dark. One local angler told us small jigs tipped with Euro Larvae out-produced waxies roughly 4 to 1. Ice depth is about 12″ and we've seen lots of full-sized trucks on the lake. Someone must have plowed a road from the public access off of Pincherry Road out to the fishing grounds because we see trucks traveling over there often. We maintain our lake access for ATVs or snowmobiles (not trucks) for Wildwood guests only. We don't allow access through the resort for the general public.
Itasca County Snowmobile Trail Report

We enjoyed having the Warren Snowcat club at Wildwood over the weekend. We were VERY concerned about trail conditions after it rained last Wednesday night but the Warren club reported great conditions on Friday. Saturday the trails were a little rougher thanks to heavier traffic and warmer temperatures. Temperatures were near 40 yesterday so I'm sure we lost some ground in terms of base on the snowmobile trails. However, temperatures are forecasted to stay below freezing this week and there is snow in the forecast. We are really hopeful that the 2016 snowmobile season is going to be a great one!
We also had some families in last weekend that enjoyed the mild winter temperatures. They fished a little and played a little and were gracious enough to let us post this photo. Rest assured that Mom and Dad were supervising these future Minnesota snowmobilers!
We still have openings for most of the prime winter weekends. Check our availability and call 1-218-328-5858 or email us for more information!
Have a great week!
Kim & Jay