Ice Fishing on Bass Lake – Grand Rapids, MN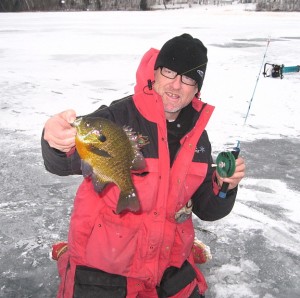 New Year's weekend Jay and some of our friends hit Bass Lake for the first time this year. He was surprised to find ice depth of almost 24″! I guess it isn't too much of a surprise considering the cold weather we've been experiencing. Our snowfall in the last couple of weeks has been unimpressive! However, the lack of snow combined with very cold temps means that the ice conditions are awesome. And lake access from the resort is much easier than last year with less than a foot of snow on Bass Lake. There is a lot of drifting but, again, with the low snowfall the lake is easily navigable by truck, ATV, snowmobile and even by foot! We have a girls' hockey team at Wildwood this weekend and some of the dads hit the lake yesterday before the start of the tournament. They found some smaller sunnies, northern and perch. With more time (and less wind!) they said they would have spent more time drilling holes and moving around to find bigger fish. With temperatures forecasted next week in the 20s it sounds like it will be a great ice fishing weekend!
Girlfriend Weekends at Wildwood Resort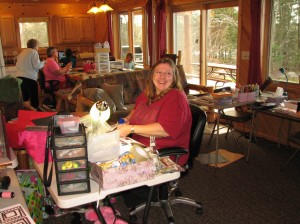 Now that the holidays are behind us it's time to focus on the New Year and all the goals we've set for ourselves. I'm guessing some of you girls out there have a backlog of scrapbooking to do! How about you set a "goal" of heading to Wildwood with your crafting friends to knock out those scrapbooks documenting 2014? You can get stuff done AND have fun with your girls while doing it. Our fully-furnished cabins are warm and cozy and all offer an amazing view of Bass Lake and our winter landscape. Wildwood is the perfect destination for your small group quilting retreat, scrapbooking weekend or girlfriend getaway! With rates as low as $39/night/person you can't go wrong – plus we offer a 3rd night free with a minimum 2 night stay. Call or email us today for details!
New Requirements for Boat Owners in 2015
The Minnesota DNR is moving ahead with plans to roll out its new AIS prevention program for 2015 in spite of the lack of support from the tourism community. The program requires all boat owners to complete a 30 minute, online program to pull a boat in Minnesota. (Or, apparently, through Minnesota) Our state resort organization is not supportive of the current program and will be talking with lawmakers about a better solution when we have our annual trek to the state capitol in February. However, if you are a boat owner in Minnesota or if you are an out-of-state visitor and plan to bring your boat on your Minnesota summer vacation please be aware that this new requirement affects you! Learn more at the Minnesota DNR website: http://www.trailers.mndnr.gov/. You can also find a recent Star Tribune article on the subject. If you have an opinion on the subject make sure your state lawmakers know how you feel!
Despite the cold temperatures and ice fishing talk I am noticing early signs of the coming summer. The sun is trekking back in our direction which means more daylight. And we are having lots of conversations with people considering a Minnesota summer vacation at Wildwood Resort. Those conversations are the highlight of our days! For now we'll wear layers and fight the elements but our spirits are focused on the coming spring. Hang in there!
Kim & Jay