Can't Snowmobile? Might as Well Ice Fish!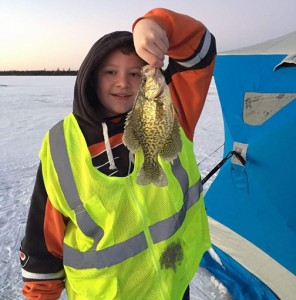 Mother Nature and Old Man Winter have conspired so far to keep snowmobilers waiting on the white stuff. Snowmobile trails in Itasca County aren't open yet due to lack of snowfall but, honestly, we don't think that's such a bad thing right now. With the "warm" winter we've had so far there isn't much ice on some area lakes and the swamps are still too soft for the groomers. What we REALLY need are some good, old-fashioned, Minnesota winter temperatures so we can make ice and freeze swampy areas and then we'll be ready for all the snow we can handle. We haven't given up hope that we'll get a good snowmobile season this winter so let's all think cold, white thoughts through mid-March!
On the positive side there is enough ice for anglers to get out on Bass Lake and fish! Our New Year's guests enjoyed some really good ice fishing for bluegill and crappie. Jay and a friend even ventured out on Sunday and caught their limit of bluegill in just a couple of hours. There is 6-7 inches of ice topped with a couple inches of snow. Our guests had no trouble making it out to the fishing grounds by 4-wheeler or snowmobile. There isn't enough ice for truck traffic or even a Ranger in our opinion. We are hoping that the forecast for next week holds true and we get more seasonal temperatures.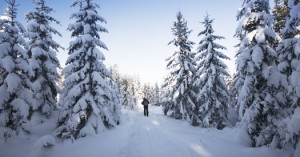 The other positive is that there is plenty of snow for the x-skiers! The trails in Itasca County are groomed and ready to welcome x-skiers of all skill levels. There are even lit trails for skiing at night – how cool is that?! Itasca Trail Sports in Grand Rapids, MN rents x-skis and we've had many guests rent their equipment. Click here for more information on x-skiing in our area.
Overall life is good at Wildwood! Won't you come and experience it for yourself? Give us a call or email us today to start talking about a mid-winter stay with us!
Think Snow!
Kim & Jay
P.S. We are still offering our "Stay 2 Get a 3rd Night FREE!" winter promotion in conjunction with our $39/night/person winter rate. You can't go wrong!