Fall Colors and a FREE NIGHT!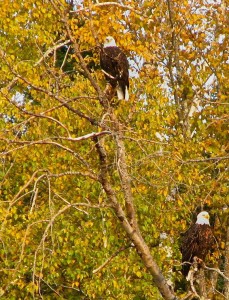 I don't know if you've noticed or not but it's fall. It kinda snuck up on us this year. We were doing our normal summer resort vacation stuff and all of the sudden – BAM! – it's fall. Today the kids are at school, the house is quiet and outside it feels very autumn-y. Jay is happy because it's cool enough for him to put on a sweatshirt. He didn't break a sweat as he did his chores today and the resort is empty enough that he could let our new puppy, Kami, run around with him. I, however, am a little sad. I'm not the greatest admirer of fall because it marks the end of summer and the school starts bossing us around again. No more free-wheeling summer days. Nope! Now we have bedtime, alarm clocks, bus schedules and homework. Blah! 🙁
In an effort to rehabilitate my attitude toward fall I'm going to make a list of things for which I'm grateful. I'm going for a new Gratitude today! (Grateful + Attitude = Gratitude)
1) Fall colors are amazing! There is no denying that the way the leaves change color is nothing short of miraculous!
2) The kids are back in school. I'm not one of those moms who REALLY wants the kids to go back to school. However, there is something to be said for a quiet house. (And the ability to eat cake for breakfast after the kids get on the bus!)
3) Number 2 above means that I can actually get some office work done….like updating this blog. 🙂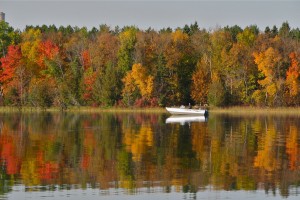 4) The shift from "Minnesota summer vacation" mode to "fall getaway" mode means that the resort is quiet even when full of people. Our fall color watchers are here to relax and maybe do some fall fishing on Bass Lake so the activity level is low but the peace-and-quiet quotient is high!
5) This is the most important one of all: We love our life here at Wildwood no matter what the season! We are lucky to spend our lives doing something we truly enjoy. Each of our guests is a blessing to us and for that I'm truly grateful!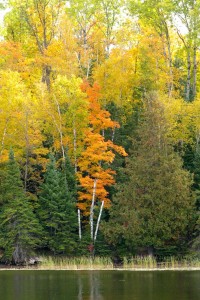 Phew! It worked. My Gratitude has been adjusted. Did my list work for you, too? If not, then why don't you plan a stay at Wildwood this fall?! We are offering a FREE NIGHT in September and October when you book a three-night stay. That means you could spend four nights enjoying fall colors and some R&R but only pay for three! Check out our availability and then call or email us for more information. We'd love to see you!
Happy First Day of School!
Kim & Jay