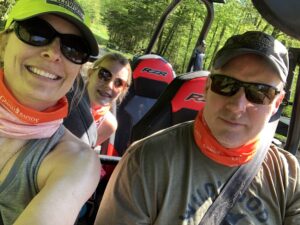 ATV Vacations at Wildwood Resort
The heavily forested ATV trails in Itasca County north of Grand Rapids, MN are beautiful no matter what the season. And exploring the woods on an ATV or UTV is an experience unlike any other. Last summer Jay, Karlee and I hit the trails in a 4-seater, side-by-side. Although we have been on area snowmobile trails many times it was a totally different experience in warm weather with leaves on the trees. We also went again in the fall and explored the ATV trails north of us in the Balsam area. We had a great day with friends. The day was perfect and the fall colors were spectacular!!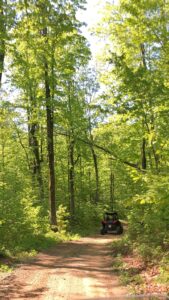 As ATVing has become more popular in the last several years we see more and more of our guests go 4-wheeling and off-roading while on vacation at Wildwood. They always come back with smiles on their faces. Sometimes they come back a little dusty and muddy, too, but that's part of the fun!
There are 54 off-road trails in Minnesota. We are lucky to be close to many of the them in our area! The UPM Blandin Trail is the closest to the resort. But there are hundreds of miles of trails to explore in the area. VisitGrandRapids is a great, local resource for things-to-do while in our area. You can find extensive ATV/OHV information including maps on their website at: http//visitgrandrapids.com/things-to-do/atv-ohv/.
Don't have a 4-wheeler or ATV? No problem! You can rent them locally from R & R Rental. Visit their site at: https://www.rrrental.com/recreation-rentals.asp but be sure to select the "Grand Rapids" location.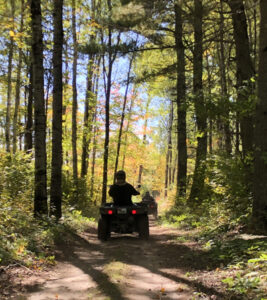 Year round there are opportunities to get out and enjoy the beautiful Northwoods! We invite you to plan a stay with us and go exploring!
See you out there!
Kim & Jay