Great Fishing and Outdoor Recreation on Bass Lake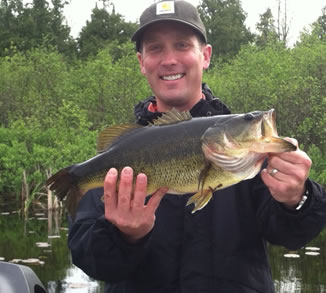 Awesome Fishing!
Bass Lake is a 2,400 acre lake with a maximum depth of 76 feet and average water clarity of 10.75 feet. It is a lake comprised of two basins connected by a wide shallow channel that is navigable by boat. The upper basin is deeper and has gravel and sand shorelines, whereas the lower basin is more shallow, with softer bottom and more aquatic vegetation. Wildwood is located on the east shore of the lower basin of Bass Lake. From south to north the lake stretches approximately 7 miles.
Bluegill, Walleye, Bass & More
Bass Lake offers excellent angling opportunities for panfish, walleye, northern, largemouth bass, jumbo perch and crappie. It is well-known for the large size of its bluegill! Because of the rarity of such large panfish, the DNR enacted a special limit of 5 per person on Bass Lake's sunfish. The regulation which has been in place for more than a decade has worked to preserve the future of bluegill fishing on Bass Lake for generations to come. In addition to panfish, the walleye and northern fishing is excellent…especially in the early spring before the lake temperature rises The largemouth bass action on the lake can only be described as thrilling. They usually become active in the late spring as the water temperature begins to rise and are at their most aggressive as the lake temperature begins to cool in the fall. Bass Lake also offers incredible winter ice fishing.
Get The Latest Minnesota Fishing Regulations
Did you know that fishermen in our area can fish for Minnesota largemouth bass and smallmouth bass beginning on the Walleye Opener? (Catch and Release only) Keep up-to-date on details like that by downloading the latest fishing regulations, seasons and limits to your smartphone. Visit the DNR's website for the latest Minnesota Fishing Regulations, as well as maps and detailed information about Bass Lake.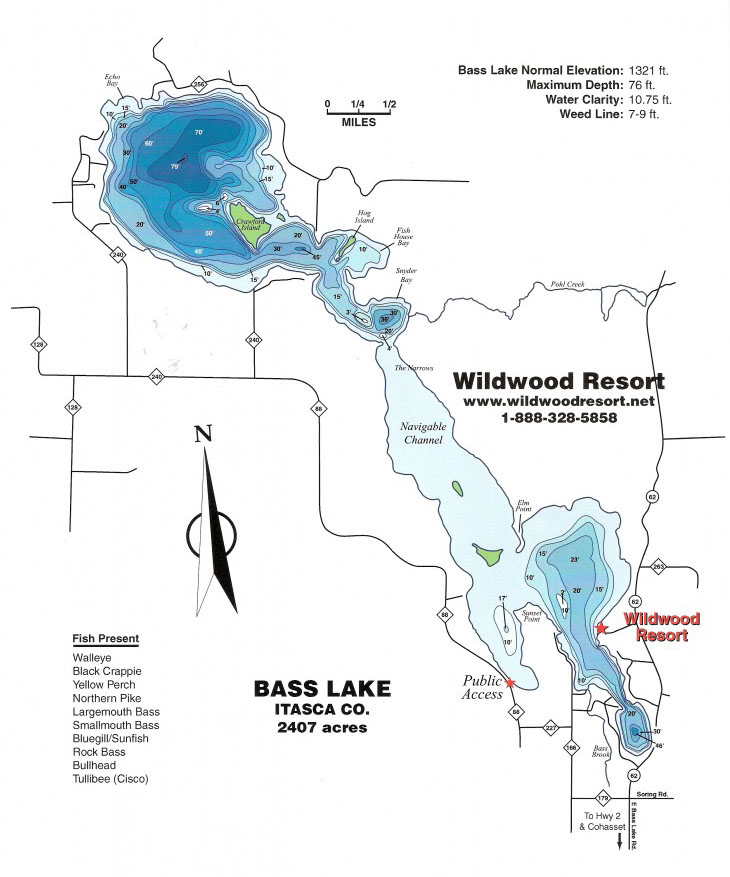 Bass Lake Offers A Sandy Beach & Great Swimming at Wildwood Resort
Bass is also a wonderful recreational lake. With a DNR-rated clarity of 10.75 feet it is a clean and beautiful body of water. Our safe, shallow shoreline is perfect for wading and exploring among the reeds. Our sandy beach is large and inviting and our swimming area is large with no sudden drop-offs. Lounge on the beach or float on a raft and enjoy the warmth of the summer sun. Build sand castles or snorkle under the docks. Take a ride on the paddleboat or canoe or enjoy a day of waterskiing or tubing. No matter what your idea of a great day on the lake – you will find it on Bass Lake!