To be honest I am a little nervous about starting a blog.  Does anyone really care about resort life in the Northwoods?  I guess we'll find out because we intend for this blog to be about the beautiful area in which we live and the wonderful people who stay with us.  (And we might throw in a few stories about our crazy lives running Wildwood Resort!)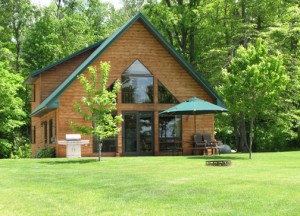 Our summer season is off to a wonderful start.  Although there have been a lot of overcast days we've still had nice afternoons to play on the beach and, of course, we have seen some big fish already!  This week is the first week this season that we have been really busy.  Our Activities Coordinator came out and made cute little bags with the kids that they can take home for keepsakes.  You have to love Puff Paint!  Our kids' activities will be held each Monday morning and Wednesday afternoon.  We're so glad to have our friend, Krista Sjostrand, back this summer to head up our kids' program!
We have a pair of eagles that nest next to our resort.  Each year we are thrilled to see them overhead and always have fun watching their young leave the nest.  This year the happy family has twins so there will be twice the antics when those youngsters decide to take flight.  Is there anything better than a northern Minnesota vacation?  (We really don't think so…)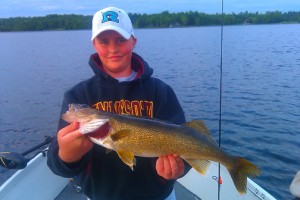 The big catch so far this year is a 5 lb 10.5 oz. walleye, a 4lb 8 oz largemouth bass and a 1lb 3 oz. bluegill.  The Mayfly hatch has come and gone and lake temperatures were hovering around 70 degrees (at the surface) but the rain this week has probably brought that down in the lower 60s again.  Fishing has still been fairly consistent this week since the diehards in camp this week haven't let a little rain keep them off the lake.  We're looking forward to some sun tomorrow!
We're so glad to have you following along with our blog!  Until next time….
Kim & Jay