As I approach my middle age and experience the maturing of my body I think I recognize the source of Mother Nature's erratic weather patterns: she's is menopausal!  Rain?  In January?  Did she forget where we live?  This isn't the rainy season.  It's supposed to be the SNOWY season!  Mother Nature needs hormone therapy, STAT!!!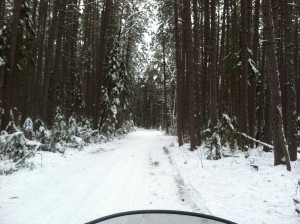 Needless to say the rain that we experienced at the end of last week has pretty much ruined the snowmobile trails.  We snowmobiled three times last week and even though we are too old for that (Ibuprofen, anyone?!) we are so happy that we did!  More than an inch of rain fell on our area turning roads and low-lying areas into ponds.  There was some hope on Friday that we might get a dumping of snow afterward but, no….it didn't happen.  Trail conditions were marginal before the rain so right now I would say leave the snowmobiles at home unless you plan to ride your sled out to to your ice house.
The good news is that we have got plenty of ice!  Reports from guests last weekend indicated more than 12″ of ice on the south end of Bass Lake.  Although I haven't seen any trucks out on the ice as of yet I'm sure by the weekend we'll see some bigger vehicles out Bass Lake.
It's hard to believe that it's already mid-January!  The new year is moving just as quickly at the last one.  There are many great events coming up in our area to help burn these long winter months.  So grab your winter gear, get up here and head outside:
Info courtesy of VisitGrandRapids.com calendar of events.
January 19: 7th Annual Hockey Day MN on Lake Pokegama; outdoor hockey games played on Lake Pokegama; line-ups include for boys, Eagan vs. Hibbing & Benilde St. Margaret vs. Grand Rapids and girls, Hibbing vs. Grand Rapids; broadcast on Fox Sports North
January 19: John Anderson, 7:30p @ Reif Performing Arts Center.
January 19: Annual White Oak Dog Sled Winter Event @ White Oak Fur Post; 18-mile sprint race to Gosh Dam Place; free & open to the public
January19: Annual Driftskippers Snowmobile Club fundraiser @ Timberlake Lodge
January 22: The Gichigami Trio, 7:30p @ Reif Performing Arts Center.
January 24: Minnesota Twins' 53rd Annual Winter Caravan, 5:30pm Doors open; 6pm Dinner; Twins personalities include: Brian Duensing, Chris Parmelee, Tom Brunansk and Dan Gladden; cost is $12/person; event held at Sawmill Inn; sponsored by KOZY/KMFY
January 25: Mountain Heart, 7:30p @ Reif Performing Arts Center.
January 26: Candy Cup#1 (2:30pm); cross country ski race for 4-14 years old; entry fee only $5; hosted by Mt.Itasca Nordic Ski Association (MINSA). For more info go to: www.MtItasca.com or call Petra C. at 218-999-5046.
January 26: Winter Frolic, 11a-2p @ Marcell Family Center. Indoor & outdoor activities, hayrides, crafts, games, and food. Children must be accompanied by an adult. Free Children First event. 218-332-3444
January 26: Annual "Numb your Bum" 5K run, 8a registration, 9a start time @ Firehall in Coleraine. $15 entry fee – Contact for more information: Mindy Thomsen-Tammi 218-256-1654 $15
January 26: Jenny Guyer Ice Fishing Tournament, 11a-3p @ Trout Lake, Coleraine. $5 entry fee. Concessions, raffle, silent & live auction items @ Coleraine Fire Hall.
January 27: MINSA Ski Clinic (1-3pm) at Mt. Itasca; Clinic is free with paid trail fee. For more info go to: www.MtItasca.com or call 218-999-5046
January 29-30:  Seniors Bonspiel @ Itasca Curling Club – More info. (218) 999-5875
January 31:  Annual 2nd Harvest Chef's Gala event @ Timberlake Lodge
Have a great week!
Kim & Jay