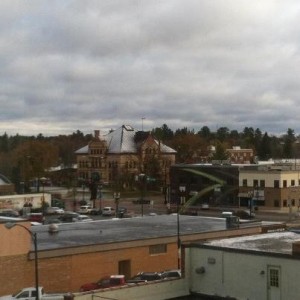 We awoke Thursday morning to a layer of snow covering the grass.  It wasn't frost, either.  It was honest-to-goodness "but-it's-only-October" snowfall!  At first I wasn't too happy.  But as I headed into town to work that morning I changed my tune.  While driving down our road I found myself scanning the ditch where the snowmobile trail comes off the lake.  Let me tell you that a few minutes of anticipating snowmobiling flipped my frown up-side-down!!  I'm trading in my swimming suit for the snowmobile gear – the hydrobikes for the sleds.  Minnesota snowmobiling is the bright spot in our long winter so bring it on, Mother Nature!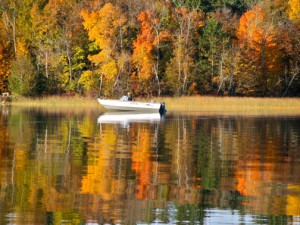 We have spent the last week scurrying around the resort trying to get things done before it gets much colder.  We probably look a lot like the squirrels about now.  (minus the bushy tails!) Whenever we've gotten any kind of break in the weather we have run outside to mulch leaves and strip the bedding in the older cabins.  My wise resorter friends spend a lot of time cleaning in the fall before they shut down their winterized cabins.  I know in the spring I would appreciate having less to do thanks to fall cleaning. But I just can't find the energy to care much about the spring right now.  So this year I'm just washing and bagging the bedding, removing any food and/or paper items to discourage critters from taking up residence and shutting the door.  I'm always just a bit sad to put the girls to bed (that's how I think of the original cabins) but I figure after 70+ years of sheltering guests at Wildwood they deserve their winters off.  🙂  So far Jay has the kayaks and beach chairs stowed for the winter and next he'll blow out the water lines on the old cabins.  That just leaves putting the boats away and pulling docks and I guess we'll be ready for winter.  I'm hoping for a nice and sunny 70 degree day for that last chore.  Somehow I think I'm going to be disappointed!!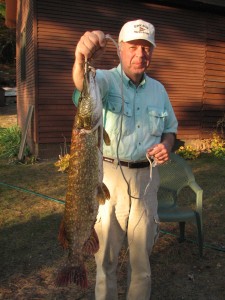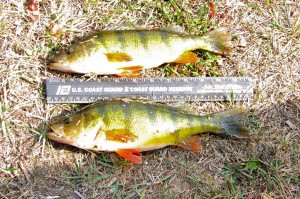 The fall fishing this year was not anything to brag about.  Most of our friends with resorts said the same thing.  We definitely had groups that did really well but overall the fish just weren't jumping in the boats for our fishermen.  We saw some nice perch which is encouraging.  I think we see more perch in that 11″ range now than when we bought the resort in 1999.  Several of our long-time guests have mentioned that "back in the day" the big perch were thick on Bass Lake.  Hopefully the big fish we see in the fall these days means that population is recovering.  We did see a couple of really nice, big northern a couple of weeks ago.  I included a photo of one of them…
The fall colors this year were simply spectacular.  One of our guests who was visiting during peak colors took some fabulous photos for us.  Visit our Facebook page to get a look at them:  https://www.facebook.com/pages/Wildwood-Resort/129916920113?ref=hl.
Kim & Jay