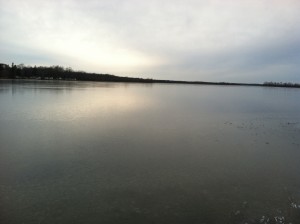 There is certainly a nip in the air these days. If we weren't building cabins we would be pretty excited right now at the thought of snowmobiling and ice fishing! We had some very strong wind over the weekend that broke up all of the ice that had formed over Bass Lake. Today the lake is skimmed over again so I'm sure it won't be long before the ice is here for the duration of winter. We are starting to field calls for snowmobile weekends and ice fishing stays as well as x-ski vacations and winter get-aways so I guess it's fitting that a light snow is falling outside. Besides, a coating of snow always pretties up the landscape by covering up the bare trees and dead grass.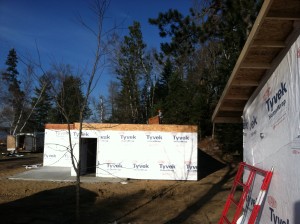 Our project is moving along. Our contractors got the lower level of Oak Lodge up and have the subfloor for the second story complete. They are constructing the walls for the second story but I'm not too sure they'll stand them today. It's cold and windy so they may hold off on that. They are walking a delicate line between working safe and getting the job done. They are highly motivated to get the structures up, enclosed and insulated so that they can start doing warmer (inside) work. By the Thanksgiving holiday weekend we hope that Aspen Lodge and Cedar Lodge are insulated with windows installed so the guys can start hanging tongue and groove paneling. Our best hope for Oak Lodge is that it is "dried in" by the holiday. Jay and I vividly remember renting a snowblower (we didn't have one then!!) to blow the snow off of the first and second story of White Pine Lodge on Thanksgiving weekend of 2003. We'd rather not have a repeat of that episode with this project!
Did you know that Wildwood Resort guests receive the lowest ticket price available from The Reif Center on all of the amazing performances offered there?! Upcoming shows include: Rocky Mountain High: A John Denver Tribute – November 23, 2013, Reif Dance presents The Nutcraker – December 13, 14, & 15, 2013, and Rock & Roll Xmas Spectacular – December 20, 2013. Download this .pdf of their 2013 – 2014 performances then plan a stay with us and take advantage of this hot deal on a cold weather stay Up North!
Have a great weekend!
Kim & Jay
You can see more construction photos on the Wildwood Resort Facebook page and on the individual cabin pages on our website!