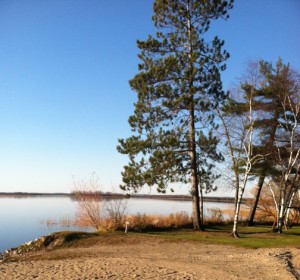 Life at Wildwood has been pretty quiet these last few weeks. Jay got the docks out of the lake the first week of November and the shoreline looks very lonely now! We were tempting the snow fates again this year by waiting until November to get the docks out but, fortunately, he got a nice day for the last chore of the year. So now the cabins are buttoned up, the boats are put to bed and the docks are stowed for the winter. It feels good to be ready for winter and we have been taking it pretty easy for the last week or so. It's the first real break we've gotten since April and we (hardly) feel guilty about not accomplishing much last week.
We have missed out on the snow that southern Minnesota and Iowa has gotten lately. We hope this is not indicative of how our winter will go! Doesn't it just figure that we sit up north wanting feet of snow and you southerners can't get out from under it. Oh well, we have appreciated the very decent weather through October and November since it makes shutting down the resort so much easier. We did get some snow one night last week and it made us really happy! We are dreaming of hitting the snomobile trails and we're hoping for early snow like last year. We were on our sleds on the trails before Christmas last year and would LOVE to get the same chance this year.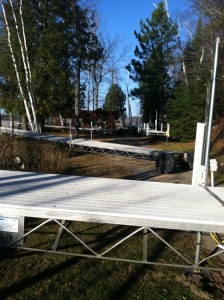 However, we do need some ice on the lake this year before it snows since last year's ice conditions were poor all winter due to heavy snow before we had good ice on area lakes. Oh, the things I've learned in our decade here! My high school guidance counselor never talked to me about dumping fish guts, non-stop cabin cleaning and monitoring ice conditions as possible career choices!! 😉
We are busy putting together our winter newsletter and just finished compiling the fishing contest results. We saw a lot of big bluegill last year! Lots of folks had fish big enough to win the contest in years past but this year one big, old fish won that category. We saw fewer northern and walleye entered in the contest than in past years which is odd since the walleye fishing this year was better than it has been in any recent year in memory. Overall it was another great Minnesota fishing year at Wildwood. Watch the mail for our newsletter to find out who our contest winners are for 2011!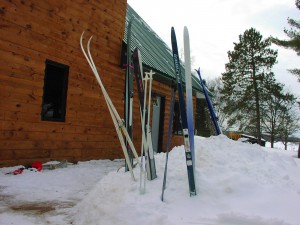 Do you enjoy cross-country skiing in the winter? We have a number of excellent x-skiing trails located very near Wildwood. All are well-groomed and some are lighted as well. Visit us at for more information on a cross-country skiing weekend at Wildwood! Ski rentals are available at Itasca Trail Sports and you can check x-ski trail reports on the Visit Grand Rapids website. Don't forget to purchase your Minnesota Ski Pass before hitting the trails this winter.
Maybe a Minnesota snowmobiling weekend is more your speed? Fortunately we can accommodate that as well! We enjoy direct access to the county-wide snowmobile trail system which offers riders hundreds of miles of scenic & well-groomed trails to explore. Snowmobile rentals are available at Rapids Rental in Grand Rapids, MN and at The Shop in Bigfork, MN. For more information on a snowmobile weekend at Wildwood please visit our website at: https://www.wildwoodresort.net/winter_snowmobiling.html.
This Veteran's Weekend we would like to add our thanks to the multitude of those grateful for the men and women who have served bravely in the past or who serve with honor today in our country's military. We owe our freedom and eternal gratitude to you and your families!
Let it Snow!
Kim & Jay