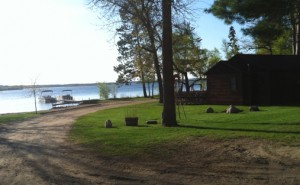 This is it!  The day so many have been looking forward to – Minnesota walleye fishing Opener!  While our preparations for today are different from most of you (we won't have time to put new line on our fishing poles until sometime in June!) we are just as excited for tomorrow.   Walleye Opener means that our favorite part of the year has commenced so bring on the fishing and the tall tales in the fish house.  Bring on the sunscreen and swimming at the beach!  Bring on the return of our guests and their children who have grown a foot since we saw them last.  Bring it on…all of it…we're ready!
I mentioned in my last blog that boat owners will have to have an AIS (aquatic invasive species) decal on their boats and trailers this summer.  However, the DNR has changed that now and will roll out new rules for 2015.  We'll keep you updated on the requirements.
Now GO FISH!!
Jay & Kim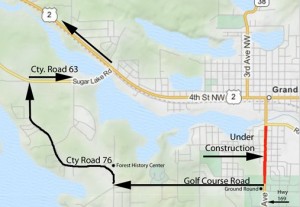 P.S.  Hwy 169 into Grand Rapids from the south is under construction this summer.  If you need to visit WalMart, Target, Cub Foods or L & M before coming out to the resort go ahead and come into town on 169.  But at the Ground Round/Walgreen's corner take a left on Golf Course Road.  Follow past the hospital to County Road 76 take a right and follow 76 until you get to the stop sign at County Road 63.  Take a right and follow it to Hwy. 2.  From there head west and follow the directions as posted on our webiste at:  https://www.wildwoodresort.net/info_directions.html.  I made a little map as well.  Call if you have questions and remember that most GPS units take you out to the boonies so please follow the directions posted on our site to find your way to Wildwood!