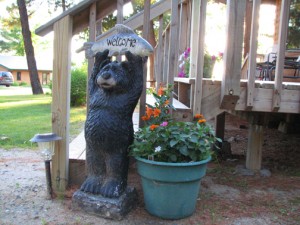 I guess that it is officially summer at our place.  You could argue that it's still late spring since the Summer Solstice is still a week away.  Or you could argue that summer started really early since we had such an early spring.  However, for us summer begins when our guests come back.  We work hard for endless weeks through April and May and then all of the sudden it's time to make the beds and throw out the Welcome Mat.  We love it!  So far we haven't been disappointed, either.  We got a lot of rain the week leading up to Memorial Weekend.  In fact, the lake came up about 5 inches!  In spite of that, the fishing was really good and the weather even cooperated for the most part.  Last week was the first full week of "busy" and it felt good to have people back in the cabins.  We smelled bacon cooking in the morning and campfire at night so it must be summer no matter what the calendar says!!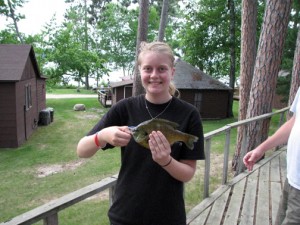 We've seen some nice fish so far.  We saw our first 1 lb. sunfish yesterday.  Those things always amaze me.  It measured just over 11 inches long!  We saw a big northern caught on the river and lots of nice walleye.  Even the largemouth bass have been cooperating.  Minnesota fishing at it's finest!
We think Itasca County is a great place to plan your Minnesota summer vacation.  There are lots of fun and interesting things to do!  We have list of Area Attractions and Day Trips on our website.  Forest History Center and Hill Annex Mine are both really great outings that are close to the resort.  Once again this year our guests can visit the Children's Discover Museum and Judy Garland Museum for free.  It's a great rainy day activity for the kids!  You can visit their website at:  http://cdmkids.org/.  Visit Grand Rapids has a comprehensive list of things to do on their website so visit http://visitgrandrapids.com/vacations/calendar/april_may_june.html for a list of scheduled events.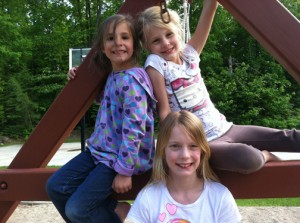 We still have an opening left for next week – June 16 to the 23rd – wanna come see us? We're offering Red Pine Lodge at the off-season rate of $1399 for the week for up to 8 people.  Just visit www.wildwoodresort.net or call 888-328-5858 to make plans!
Hope to see you soon!
Kim & Jay
P.S. Before you transport your boat in Minnesota this summer be sure you know what the DNR will require of you.  Their efforts to stop aquatic invasive species are ramped up so make sure you are compliant – otherwise you may face a fine!  Visit the DNR website at:  http://www.dnr.state.mn.us/invasives/index_aquatic.html.