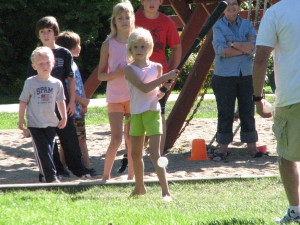 The weather as I write the blog is so gorgeous! I love these late summer days when we wear shorts in the afternoon and sweatshirts and jeans by the fire at night. We've had some rain and wind in the last week but, fortunately, nothing damaging. The worst outcome of the latest storm was that one of our kayaks has gone missing. We are hoping to get a call from a neighbor letting us know it washed up on their shore.
We finished our last potluck of the year on Monday night. It is always a bittersweet night for us. Frankly, we are SICK of goulash, however, the last potluck signals that our summer season really is coming to an end and that makes us a bit sad. We miss our guests when the season is over! Don't worry, though. We finished on a high note – there was a lot of good food and a couple of recipes that must be shared! (I promised to get the recipes on the blog!) Here they are: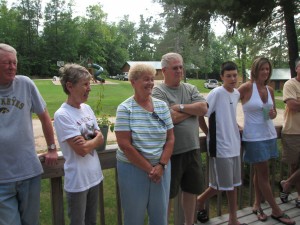 Glee's Hot Chicken Salad
2 lb chicken, cooked & diced
2 C. celery, diced
1/2 tsp. salt
1/2 tsp pepper
1 can sliced water chestnuts
3/4 C. salad dressing
1 can Cream of Chicken soup
3 T. chicken broth
potato chips
Mix salad dressing with chicken soup and chicken broth then add all other ingredients. Put in greased 9×13 pan, sprinkle with crushed potato chips and bake at 350 for 30-45 minutes.
Peanut Butter Brownie Bars
1 box brownie mix for 9×13 pan
1 can chocolate frosting (or buy brownie mix with frosting packet)
1 C peanut butter
1 C. powdered sugar
Reese's Peanut Butter Cups miniatures
Make brownies according to box instructions. Mix peanut butter, powdered sugar (add a little water as needed) and spread on brownies. Frost with chocolate frosting. Arrange Peanut Butter Cups on top.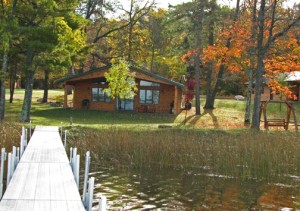 All these thoughts of the end of summer bring to mind the obvious…fall! With Autumn just around the corner I wonder if you have given any thought to a fall getaway? Itasca County is an incredibly beautiful place to plan a fall colors weekend or a fall fishing trip. Our off-season rates are very reasonable at more than 40% off of summer rates. Now that's a deal! Best of all you can unplug and unwind in one of our beautiful cabins overlooking Bass Lake. Don't fish? That's ok…there are lots of other fun reasons to visit us in the off-season that have nothing to do with baiting a hook: team-building weekends, church planning retreats, girls getaway weekends, scrapbooking weekends, and quilting retreats to name a few! Why don't you think about it and give us a call. We would love to see you (again) this year.
Kim & Jay