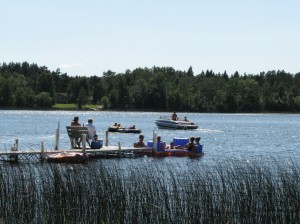 I'm starting to sound like a broken record and I've only been blogging a few weeks!  But….I have to say it again…the weather this week has been beautiful.  Only one day this week was a little rainy and otherwise every day has been perfect lay-on-the-beach, tube-on-the-lake, fish-in-the-morning, campfire-in-the-evening kind of days!  Really, summer vacation doesn't get any better than that!  The warm, sunny weather has meant that we haven't seen as many fish this week as in past weeks but last night the smell of a fish frying is wafting up to the house so someone is catching some fish!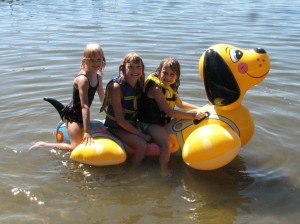 This week around our area is a busy one.  Today (July 29th) is the 27th Annual Northern Cruisers Car Show from  7:00 to 4:00 at the IRA Civic Center.  The 40th Annual Northern MN Itasca Vintage Car Club Show & Swap Meet is going on Saturday the 30th from 7:00 to 6:00 and  Sunday the 31st from 7:00 – 4:00 at the Itasca County Fairgrounds.   The Reif Center is also hosting the world premier of the Church Basement Ladies: A Mighty Fortress is our Basement  at the Reif Performing Arts Center.  Next weekend (August 5-7) is also a busy one with Tall Timber Days in Grand Rapids and the White Oak Rendevous in Deer River.
If you haven't made it out of town yet this summer or if you want one more vacation before school starts please check our Availability.  We still have openings the weeks of August 13 & 20!
Kim & Jay