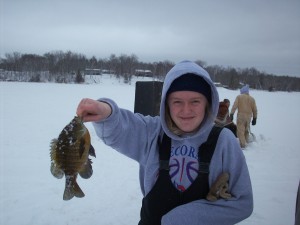 We weren't too happy with Mother Nature when she didn't support our snowmobiling plans this winter. However, what we didn't anticipate was that our mild winter would be such a boon to MN ice fishing! We've had more fishermen in this year than ever before and fishing has been really good. Our guests have found lots of nice sunfish, largemouth bass, northern pike and an occasional crappie. Most lakes are very accessible right now with the low snow totals but be careful out there – spring is around the corner so we'll start losing ice on those lake!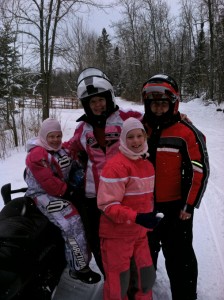 We did manage to get out snowmobiling one last time a week ago. Two back-to-back snowstorms left enough snow to enjoy the trails. We traveled from Jessie Lake east to the Scenic Pines restaurant. We had a great lunch (as usual) and then made our way back to our friends' house. We rode almost 100 miles and loved every second of it. We weren't the only ones with snowmobiling on our minds, though. It was the busiest day we ever experienced on the trail – I think we saw over 100 sleds!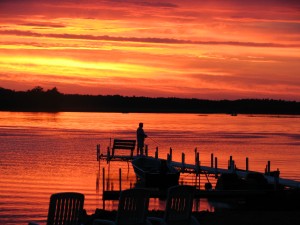 Jay and I have started our project list for the coming spring. This is the time of year when we find ourselves wandering around Home Depot for no particular reason. While most couples see a movie on "date night" we tend to go look at flooring, appliances and lumber before coming home at 7:00. Yep. We step out on the wild side every now and then!! Anyway, the list is pretty extensive this year so we're hoping for an early spring so Jay can get started. He's going to be a busy guy in a month or so. (He should probably start working out or something.) Our goal is to always provide a good value for the vacation dollar for our guests so we are constantly trying to improve our cabins and grounds. After 13 years we struggle sometimes to see our resort with fresh eyes and can easily overlook issues that have "aways been that way." What is our project "Wish List" for this year? We're looking into different heating sources for a couple of cabins and we have to replace some dining room tables and chairs. A couple of bathrooms need some serious TLC, Jay has to build some closets and we need to replace a kayak that we lost in a storm last year. We will do the usual spring cleaning which involves wiping down all the walls in the cabins, washing all the dishes, cleaning carpets and washing all the bedding (again) that we used in the winter cabins. Outside we rake the grounds again to clean up the pine needles and leaves that winter left behind, then put docks in, get the boats out of the shed and into the lake and set up the Lodge with all of our new clothing and gifts. Whew. I'm tired already – maybe I should start working out now, too?!
We are looking forward to getting Wildwood ready for summer!
Kim & Jay