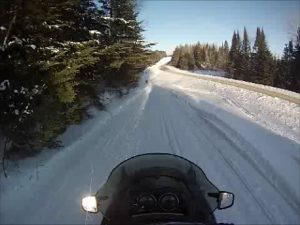 What A Difference a Week Makes!
Just 10 days ago we were experiencing near perfect snowmobiling conditions. We rode with the kids and we rode with friends. And it was good. Today the entire outdoors is an ice skating rink. Thanks to rain and warm temps over last weekend what snow we have left is rock hard. Sigh. Mother Nature giveth and she taketh away. We haven't given up hope, though! There's lots of winter left so we're hoping and watching the sky for the white stuff while we turn our thoughts to….
ICE FISHING!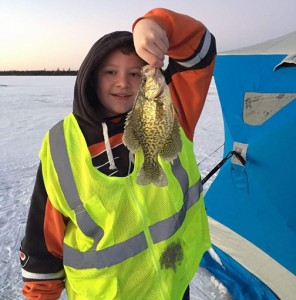 My first attempt at Blogging!! I can honestly say that I'm already uncomfortable with doing it! However, since it involves one of my favorite subjects (ice fishing) I think I can do it. On Monday of this week I took my dad on his first official ice fishing outing on Bass Lake. He had been with me one other time earlier this year but on a different lake and we caught no fish. Remember, I said I like ice fishing not that I am necessarily good at it! Anyway, we drove onto the lake (we have about 20 inches of ice) from our resort access and found a popular spot in 18 feet of water. After we got the holes drilled and the portable set up I turned on the underwater camera for my dad to use. We were pleasantly surprised to see fish right away! Less than a minute after dropping his bait in the water my dad hooked his first Bass Lake sunfish through the ice. There is something about using the camera and watching the fish bite your bait that adds to the fun! He said more than once that "it doesn't seem fair to the fish" but he never did volunteer to switch his camera for my Vexilar. 🙂 During the 4 hours we were on the lake we were rewarded by several schools of sunfish that gave us non-stop action for each time they swam through. The last school of fish that came late in the afternoon was by far the biggest school of sunfish I have ever seen ice fishing! We caught and released fish one after another for almost 45 minutes until it started to get too dark and we had to leave. (I forgot the lights!!) To say it was hard to walk away when the bite was still good is a HUGE understatement! I have often heard of people having a day catching 50+ fish but I had never experienced it until that trip out with my dad. I had hoped we would catch fish for his sake but I never imagined we would experience this kind of fishing. I'm just afraid he now has his expectations for catching fish through the ice set a little too high.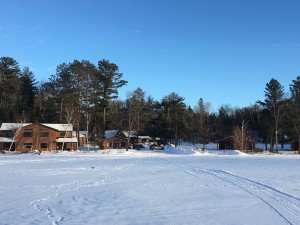 We still have cabins available for this winter, so if you enjoy ice fishing or need a weekend away from home please give us a call at 218-328-5858 or drop us an email. Our winter rate of $39/night/person (based on minimum occupancy) and our "Stay 2 nights or More and receive 1 FREE night" winter special are both good through the end April.
See you on the ice,
Jay
P.S. It's never too early to start thinking about your Minnesota summer vacation. We would love to have you as our guests!