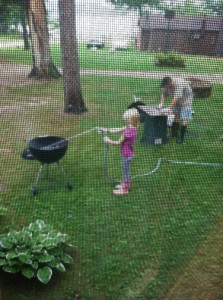 I guess that summer really is going to come to an end.  It goes too fast!!  (I'd like to register that as an official complaint!)  However, with that being said it really is time to get on with the year.  Our girls go back to school next week and they are ready.  Supplies are purchased, new clothes are washed and teachers have been introduced so bring on a new school year!
My parents went back to Big Red country this week and we miss their company.  Before they left we were discussing the fact that they were leaving soon and Katie said, "But who will take care of us?!"  Although we all laughed she does have a point.  Grandma and Grandpa support us through our busy summer and make sure we all eat regular (and delicious) meals, have clean clothes to wear and Grandpa ALWAYS has time to go fishing or for a bike ride.  We love them, miss them and appreciate them.  THANK YOU, MOM AND DAD!!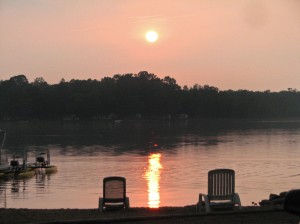 The fishing has been up and down in these last few weeks.  Seems like everyone has fish to fry for supper but we're not seeing too many entries in the fishing contest.  We continue to hear about big sunnies as well as a few walleye and northern.  The weather this time of year generally doesn't help.  This week we've had everything from 80 degrees and sunny to thunderstorms and 60 degrees.  The sunsets have been fantastic, though!!!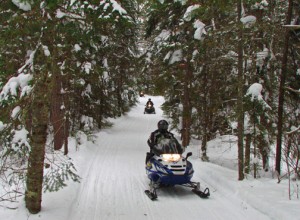 Jay and I have both taken calls in the last week for winter stays.  It is funny how we get so out of practice!  We could hardly remember ANYTHING about winter….too much summer on our minds.  The reverse is true during the winter – I can't seem to remember my summer "self" when all we've talked about is Minnesota snowmobile trips!  Although I hate to see summer end it is fun to think of the coming winter.  We love our snowmobiles and we're so lucky to have such a great snowmobile trail system in Itasca County.  I'm sure I will be blogging this winter about our snow adventures and I'll give you our version of a snowmobile trail report.  I'm including a winter picture just to get us all in the mood for the white stuff.  (Did it work??)
That's it for now.  I hope all of you have a great holiday weekend.
Kim & Jay