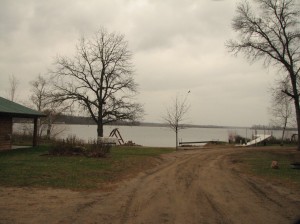 I know so many people who hate winter. They hate the onset of the cold weather and the anticipation of months of snow. I, on the other hand, don't mind winter so much. That's because winter signals the end of my least favorite season: fall. I'm not one to wax poetic about fall colors (although they are lovely) or to sigh in relief that the hot, summer weather is finally over. Nope. I LOVE hot, summer weather and as far as I'm concerned fall is the onset of cold weather and months of snow. Winter just seals the deal! We are always tired after our busy season but we still have to gut it out through September and October…kinda like a marathon runner finishing the last few miles. In light of that I'm happy to announce that the worst chore of the year – which happens to land in my least favorite season – has been accomplished. The docks are out of the lake (mostly) and I didn't have to help (at least not as much as usual) thanks to our good friend, Tim. He volunteered to help Jay pull docks out on Sunday and I volunteered to let him. I'm thinking Tim helped so that he doesn't have to listen to me whine about it for months but that's just a guess. 😉 So the good news is that amidst all the construction chaos we are actually getting our fall chores done, too, or at least the ones that have to get done. The leaves didn't get raked and Jay is having someone else split and stack the firewood but that's how it's gotta be this year. Now Jay just has to squeeze in time to winterize the boats and organize the shed. No big deal…he has loads of time on his hands right now!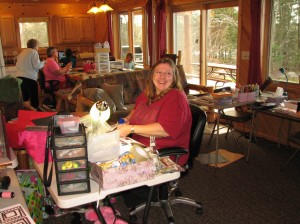 Here's another thing I like about winter: scrapbooking weekends at Wildwood Resort! We were so pleased to welcome a fun group of ladies over last weekend who took over Riverbirch Lodge and got crazy creative. It sounds like they got a lot done but most of all had a wonderful time together. We look forward to next year when we have 9 year round Lodges and are able to welcome even more girls to Wildwood for quilting weekends, Christmas baking, girlfriend getaways or scrapbooking retreats. I think that Oak Lodge will be especially wonderful for these girlfriend weekends thanks to its generous size but mostly due to the flexibility of a duplex – one side to live on and one side for crafting!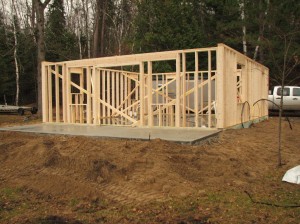 Our project is going really well in spite of the uncooperative weather in October. It rained yesterday but our contractors were still able to get the bones of Aspen Lodge built. AMAZING! Jay and I have been talking about renewing Wildwood for years. We've dreamed and schemed about how to get it accomplished and now that the project is happening it feels a little bit unreal. The plan this week is to get Aspen Lodge "dried in" and then move on to Cedar Lodge. If Mother Nature cooperates I suppose it's possible to get Aspen Lodge and Cedar Lodge completely snugged up. After months of playing in the dirt the fact that there is a structure up seems miraculous! We grateful to the many outstanding contractors helping us out with our project so I'm goign to give them a shout out: S & S Excavating (demo, excavation and septic), Pioneer Plumbing, A & A Plumbing (directional boring), Walters Electric and Niska Construction (concrete).
Minnesota Deer Opener (firearms) is this week so I like to think of the coming weekend as a minor Minnesota holiday! That means that some businesses local businesses will be closed and Bazaar season will begin. There are craft sales, church bazaars and Paula Poundstone at The Reif Center. Here is a Calendar of Local Events highlighting all there is to do this weekend in Grand Rapids, MN.
Happy Hunting!
Kim & Jay