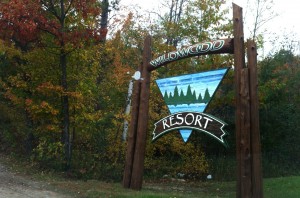 The Minnesota fall color season is upon us and while it isn't as spectacular as some other years it's pretty darn beautiful! We were very dry coming into the fall so lots of the trees have dropped their leaves already. However, there is still plenty of beautiful fall scenery to take in. The DNR estimates that we are at 50-75% in our area while northern Itasca County is at 75-100%. A drive up the Highway 38 Scenic Byway or Scenic 7 will take you through some breathtaking fall color tours!
We've had some fall fishermen in over the last few weeks. We've seen a lot of bass and had reports of nice sunfish.  I'm thinking that Jay and I aren't going to get to fish at all this fall so I guess I'll just have to tell you about all the fish that OTHER PEOPLE are catching. 😉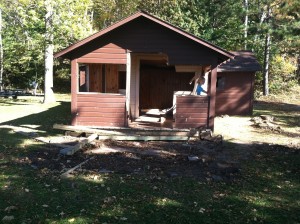 Our project is progressing well but we really are going to need a late freeze this year. This coming week the cabins will be demo'd and the site prepared for our concrete contractor to come and set his forms. If all goes as we hope we will be ready to pour concrete for Aspen and Oak Lodges by the end of the month.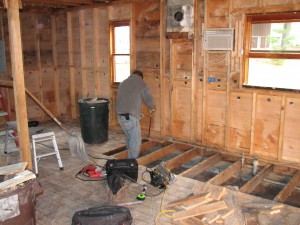 The transformation of Cabin 1 into Cedar Lodge is also going well.  We have gutted the inside of the cabin and will pull up the flooring this week. In the next few weeks Jay will be working on finishing demolition, leveling the building and working on the roof structure. It already looks like a completely different cabin!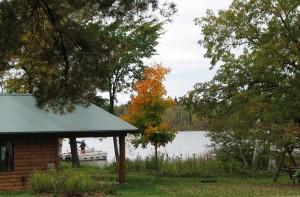 Just a quick update this week…thanks for taking the time to catch up on the happenings at Wildwood Resort!
Kim & Jay