Well, I doubt we were the only ones shocked by this week's crazy weather.  Just as we had given up on Minnesota snowmobiling and started thinking of Minnesota family resort vacations Mother Nature let us have it.  It's beautiful around Wildwood right now.  The trees are flocked and all that brown grass has finally been covered up.  We have about a foot on the ground and the Bushwacker snowmobile trail that runs just south of Bass Lake has been groomed for the first time this winter.  Jay and I are frustrated today because we'd love to hit the trails ourselves but we are busy with our part-time jobs and getting ready for the ice fishermen coming in this weekend!  Maybe we'll get the sleds out tonight…for just a quick little jaunt.  That MIGHT hold us over until Saturday when we can head out for the day.  We hope you have the chance to hit the trails this weekend as well.  Feel free to plan a March stay with us if you don't have enough snow where you are – we would love to have you!
Ice fishing on Bass Lake has continued to be really good.  Access is slightly more difficult with the deep, wet snow we got this week so we haven't seen any truck or 4-wheeler traffic out there.  However, word on the ice is that the bluegill bite is good.  Stay tuned….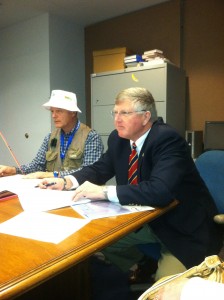 I spent Tuesday and Wednesday this week down in Minneapolis at the Capitol for the Congress of Minnesota Resorts Day on the Hill.  We spent two days (in a blizzard) meeting with Representatives and Senators sharing our message about the importance of tourism in Minnesota and our concerns over the issues that negatively impact Minnesota family resorts like ours.  It was interesting to watch government at work and more than one legislator told us how important it is to take time to communicate our concerns in person or via email.  Some of our fellow resorters took their kids and it was fun to see those young, resorters-in-training in action!  Oh – and we stayed at Hotel340 in downtown St. Paul and ate at All-American Burger while there.  Both were awesome experiences!!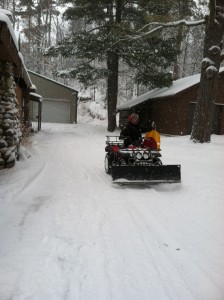 We hope your week is going well and that you get out and enjoy winter now that it's finally here!
Kim & Jay