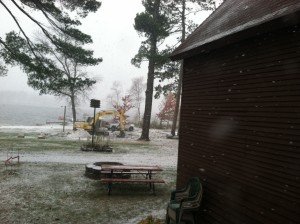 We awoke to temps in the 20s this morning. The chill in the air has the bite of winter and I couldn't help but think about snow. And do you know what snow makes me think of?? Minnesota snowmobile season! We're getting ready to pull docks out of the lake and put our boats in storage. When that happens we move our snowmobiles to the FRONT of the storage shed for easy access. It's a seasonal right of passage and the thought of that always makes us a little giddy. Now I'm not saying I'm ready for snow quite yet but I am saying that it's time to start thinking about hitting the snowmobile trails. Maybe we should also make sure we have enough wax on hand for the coming x-ski season. And now that I think of it perhaps Jay should ramp up his Craig's List search for ice fishing related items we want like an ice auger and a portable ice house.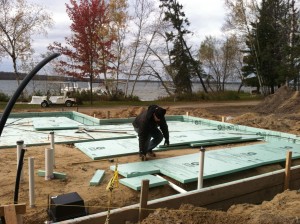 Jay won't be happy when he reads this post because he absolutely is not ready for it to snow. Why? Because he is focused entirely on getting concrete poured this week. It cannot snow this week or the next week or even the week after that if you ask my husband. The man is a little stressed out by the fact that we've got four new cabins under construction. And, yes, I did say "four" new cabins. After a month of work on the cabin formerly known as Cabin 1, we determined that there wasn't enough viable structure to support the changes we needed to make. So last weekend Cabin 1 was demolished and we began frantic efforts to add another pad to the pour-concrete-this-week plan. Our contractors have been great so far and everyone has worked really hard to make sure we can pour concrete before it snows. The weather has NOT been helpful and there were many days when Jay and our plumber were digging in waste lines in driving rain and sleet. We are assuming that as soon as these buildings are enclosed and no one has to work outside the weather will turn unseasonably warm. That's about how our luck runs. 😉 So the plan for this week is to finish site prep on Cedar Lodge, get foam down on top of all of the sites in order to get infloor heat tubing attached and then it's time to pour concrete. Think we can get all that done before it rains on Wednesday!? Stay tuned….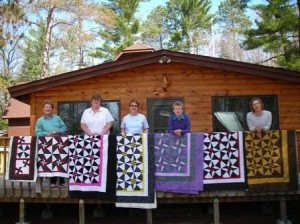 With all the talk of construction on this blog you might think that we don't have anyone staying in our other cabins this fall. Fortunately, that isn't true! Fall fishing and color tours are finished for the year. However, we still have groups on the book with plans for quilting weekends, girlfriend weekends and relaxing Northwoods get-aways! The fall bazaar season is upon us so each weekend there are many craft sales, church bazaars and fun events planned in and around the Grand Rapids, MN area. For instance this coming weekend is the First Friday Art Walk in downtown Grand Rapids. The Good Lovelies are performing at The Reif on Friday night then on Saturday the Christmas UpNorth Craft Show is being held from 9:30 a.m. to 4:00 p.m. at the Timberlake Lodge. Saturday night the Harlem Abassadors are in town at the high school and the Itasca Symphony Orchestra is performing at the Reif. Doesn't that sound like fun? Maybe you should plan a quick November get-away to Wildwood Resort with your special someone or your crafting friends! Winter rates are now in effect so give us a call today.
Our new website debuted last week. It is an updated version of our old site design and we are very happy with it! Thanks to Art Unlimited for their hard work on our new site!! We are still doing some cleanup work on it this week so if you find any errors please email them to me. Thanks!!
Have a great week –
Kim & Jay