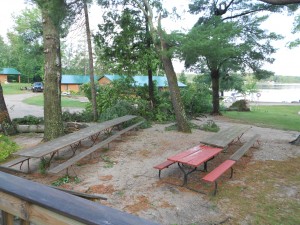 We had an interesting week at Wildwood July 4th week.  On Monday night, July 2nd, we rode out a severe storm that rolled through northern Minnesota.  We had finished potluck when we saw on radar that the storm was approaching.  At that point it was west of Bemidji and, although it looked somewhat severe, we had no indication that it was anything out of the ordinary.  We did our normal storm preparations (for which we have always been made fun of by our repeat guests!) and alerted everyone of the approaching storm.  By the time we got finished with our storm prep chores and made it back to the house to check radar again the storm had grown into something truly scary.  Intellicast.com was predicting 80 mph winds and hail.  We had no sooner realized the severity of the storm and it was upon us.  When the storm sirens in Cohasset went off we headed to the basement with the girls, my parents and visiting relatives.  None of our guests had time to head to the storm shelter with us.  The wind roared for what we guessed was about 20 minutes and when we felt like we could come up from the basement we were unable to go outside because the lightening was still too close.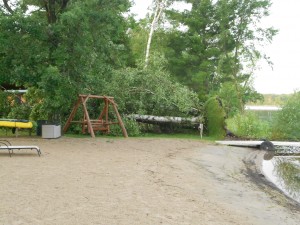 We could see debris in front of the house and our hearts just sank.  We had been praying the entire time we were in the basement that our cabins were able to withstand the winds in order to shelter our people and we were immediately freaked out by what we could see out the front window.  We could see that trees were down everywhere but the seven cabins we could see from the house appeared to be fine.  However, we can't see Cabins 3 & 4 from the house so it was many nerve-wracking minutes later before we could confirm that all our guests were fine and, miraculously, all 9 cabins were intact.  We gave thanks that everyone was OK and were relieved to find no serious damage – blessings in spades!!!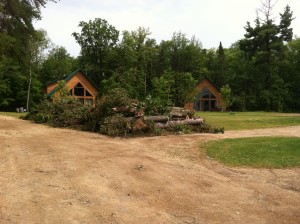 Our blessings continued in the form of the guests and friends that showed up to help us clean up.  Local friends lent us generators and a few came by with a skid steer and chainsaws and worked in the heat and humidity for hours to clear the resort of downed trees.  Our guests that were here pitched in and helped us in a million little ways.  From storm cleanup to lifting our spirits they helped us through a very stressful week!  Even the smallest kids helped pick up sticks and remnants of beach chairs and by nightfall Tuesday night we had 5 generators powering refrigerators and fans in the cabins as well as the Lodge, lift station and well.  The only broken window we had was on the Lodge and that was amazing.  We lost most of the beach chairs, several grills, many beautiful trees and our incoming power source.  The storm was so large that it caused a regional power outage with hundreds of miles of downed power lines stretching from Bemidji to Grand Rapids. We knew that we would not get power back quickly because not only did our power company have to get the power back on to the neighborhood but we felt like it would take additional time for them to repair damage on individual properties like ours. In the end we were out of power for 3 long days but we know now that we were so lucky.  Not only was no one hurt but we suffered no extensive damage.  Many other resorts and property owners in our area sustained massive damage in the storm and our neighbors to the south in Aitkin County are still out of their homes due to flooding from earlier in the summer.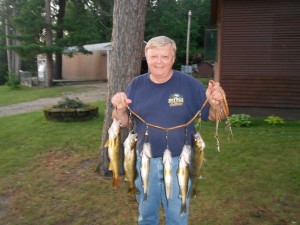 On the positive side, the weather since that week has been very beautiful.  Warm days and cool nights have provided the perfect backdrop to summer vacation in Minnesota.  Fishing has been good and we've seen lots of walleye in the fish house in the last couple of weeks.  We've also seen a lot of bluegill but haven't had a lot of contest entries so far this summer.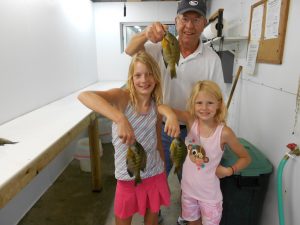 In addition to fishing, swimming, boating and campfires there are lots of great things to do during your Minnesota Family Vacation at Wildwood Resort!  This summer on Thursdays you can participate in Taconite Mine Tours at 1:00 p.m. at the MN Discovery Center in Chisholm.  The bus leaves for the Hibbing Taconite Mine for a 2-hour tour where you can watch iron ore miners navigate 100-ton maintenance trucks, large drilling rigs & huge bulldozers.  Cost is $5/person and children must be age 10 or older.  Upcoming July events including the Mississippi Melodie Showboat July 19-21 and the 26-28, "Be a Lumberjack" children's program at the Forest History Center July 20th and 21st, KAXE Mississippi River Festival on July 21st, and the Northern Cruisers Car Show and Northern MN Itasca Vintage  Car Club Show & Swap meet July 28th & 29th.  There are also free programs offered at Scenic State Park and the Edge of the Wilderness Discovery Center.  Check out the area calendar of events provided by the Visit Grand Rapids organization for more things to do while in our area!
Are you following us on Facebook as well?  We post lots of photos and videos (when we have them) on our Wildwood Resort Facebook page so don't forget to stop by and "Like" us next time you log on.
Until next time…
Kim &  Jay