We hope that your holiday week was a good one.  Ours was wonderful.  We're so grateful for those who secured our freedom and those who continue to defend it!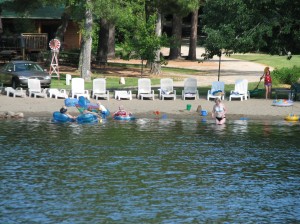 Is there any better way to spend a beautiful summer day than on the beach?!Our weather was simply perfect last week.  We could not ask for any better!  The sun has been shining and our guests have been down on the beach soaking it up.  We have gotten out on the boat a few times and have enjoyed swimming, touring the lake and snacking while doing both.  (We never hit the lake without food!)  The lake really has warmed up a lot – the surface temperature is around 77 degrees!  Although no one under the age of 12 seems to mind that water temp I found it rather shocking.  I'm going to assume that is another sign of my advancing "maturity."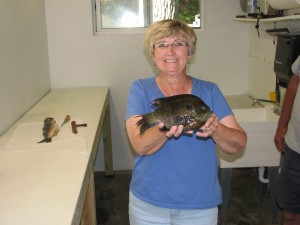 Fishing was very steady last week.  Lots of fish in the fish house means lots of fish tales around the resort!  The sunfish are just huge!  We've seen several this year right at a pound and even bigger.  A 1+ pound sunfish looks like a dinner plate!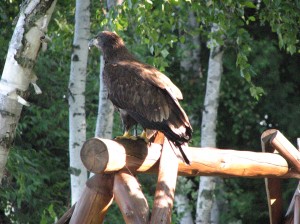 Our young bald eagles are flying!  The babies have officially left the nest and are crashing into our treetops.  One even tried to land this morning on one of the metal roofs and took a wild (and fast!) ride to the ground.  The eagle was unhurt but they always sit on the ground with a look on their face that seems to say, "What just happened?!?!!?"
We had a last minute cancellation for the week of July 30th to August 6th.  Red Pine Lodge is now available for that week.  The weekly rate is $2495 for up to 8 people.  (but the cabin will sleep 12)  We also have an opening now for Cabin 4 the week of August 6th.  The weekly rate is $995 for 1-4 people.  Call or email today if you are interested in a stay with us this summer!
Have a great weekend whatever you are doing!
Kim & Jay